BREAKING | 2nd Round Candidates Announced at 2019 Nielsen International Violin Competition
The 2nd Round candidates have been announced at the 2019 Carl Nielsen International Violin Competition
The 12 2nd Round candidates have just minutes ago been announced at the 2019 Carl Nielsen International Violin Competition - in Odense, Denmark.
The 2019 2nd Round candidates are:
VC Young Artist Johan Dalene (18, Sweden)
Arata Yumi (26, Japan)
Ava Bahari (22, Sweden)
Wonbeen Chung (21, South Korea)
Anna Agafia Egholm (22, Denmark)
Michael Germer (16, Denmark)
Marie-Astrid Hulot (21, France)
Hina Maeda (16, Japan)
Seina Matsuoka (25, Japan)
Sueye Park (18, South Korea)
Dmitry Smirnov (24, Russia)
Belle Ting (18, Canada)
Open to international violinists 29 years and younger, the 1st prize winner will receive €12,000 (USD $14,000), a recording with the Orchid Classics label – plus a number of important orchestral and festival performance opportunities.
The 2019 jury comprises: Nikolaj Szeps-Znaider (Competition President), Eugen Tichindeleanu, Albena Danailova, Sergey Khachatryan, Nurit Bar-josef, Sally Beamish, Ingrid Fliter, Kathryn Enticott and Tobias Niederschlag.
"In putting together the components for the 2019 Carl Nielsen International Competition, we have tried to focus on what we believe are the most crucial aspects from the perspective of the participating musicians … namely, offering a platform and transparency … " Competition President, Nikolaj Szeps-Znaider has told The Violin Channel.
"I believe it is crucial to find the most honest and humane way possible of organising the competition process and for this reason we have set four premises for the violin competition … " the 1991 1st prize winner has said.
"Firstly, the jury will not include any teachers … secondly, votes will be made public at every stage of the competition … thirdly, the jury will not be provided with biographies in the first round and will be encouraged not to read up on the participants in their spare time  … and fourthly, as the first round of the competition takes place over two days, it allows us to split it into parts … on the first day the jury (not the participants) will be seated behind screens and the participants will perform, unnamed and in a random order, ensuring that the jury use only their ears … on the second day of Round One the jurors will be able to both see and hear the participants who will again perform in random order … the jury will vote after each day and the contestants will receive the aggregate from the scores of those two days," Nikolaj has asserted. 
"I think this will be very interesting and provides a way of freeing the violin jury of pre-conceived ideas and allowing for the competition to be both fair and honest," he has said.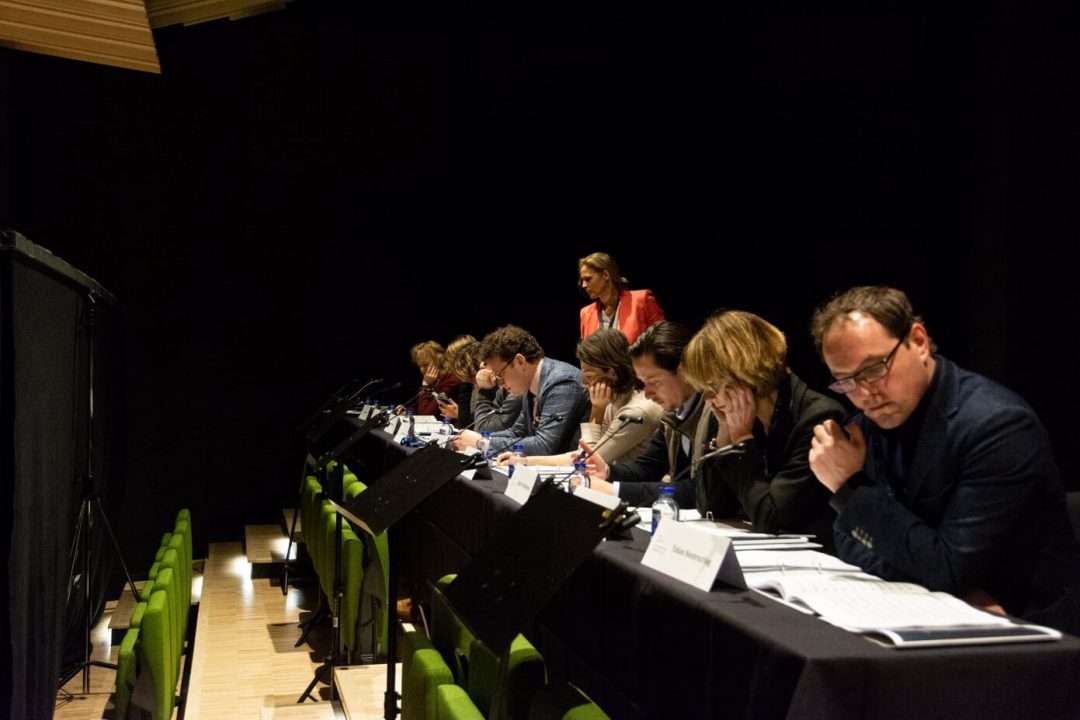 2019 CARL NIELSEN INTERNATIONAL VIOLIN COMPETITION JURY BLINDLY LISTENING BEHIND A SCREEN - DURING THE OPENING ROUND OF THIS YEAR'S COMPETITION 
Previous prize winners include: Kathleen Winkler, Joji Hattori, Nikolaj Znaider, Jennifer Koh, Pekka Kuusisto, Adele Anthony, Hrachya Avanesyan – and VC Artists Josef Spacek, Ji Won Song and Luke Hsu.
As an official 2019 international media partner, The Violin Channel will be streaming all rounds live on facebook.