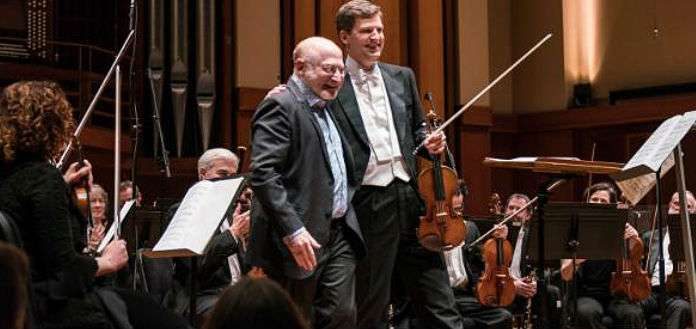 Pulitzer Prize-winning American composer Aaron Jay Kernis, violinist James Ehnes, conductor Ludovic Morlot and the Seattle Symphony have just minutes ago been awarded double Grammy accolades, at the 2019 61st Annual Grammy Awards in Los Angeles - for their Kernis Violin Concerto CD release on the Onyx Classics label.
The new violin concerto, premiered and recorded in 2017, was awarded the 'Best Contemporary Classical Composition' - plus the highly-competitive 'Best Classical Instrumental Solo' accolade.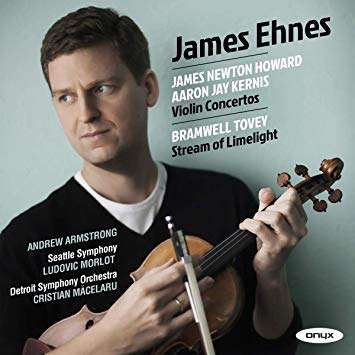 "It's a great thrill to receive this wonderful honor ..." composer Aaron Jay Kernis has told The Violin Channel.
"James Ehnes is a truly spectacular musician and collaborator, as well as being a great human being ... James took everything I threw at him with good humor and generosity, and made the knuckle-busting passages and everything else I gave him sound absolutely dazzling," he has said.
Other standout nominees in the categories included composer Mason Bates' acclaimed new opera The (R)evolution of Steve Jobs, Yuja Wang's recording of Bartok's 2nd Piano Concerto with Sir Simon Rattle and the Berlin Philharmonic - and superstar violinist Joshua Bell's Scottish Fantasy & Bruch Violin Concerto No. 1 release with The Academy of St Martin in the Fields.
The Grammy Award for the 'Best Chamber Music/Small Ensemble Performance' was awarded to experimental violinist Laurie Anderson and the Kronos Quartet - for their Landfall release on the Nonesuch Records label.
The 2019 Grammy for the 'Best Orchestral Performance' was awarded to conductor Andris Nelsons and the Boston Symphony Orchestra for their recording of Shostakovich Symphonies No 4 & 11 - on the Deutsche Grammophon label
The team behind the contemporary opera The (R)evolution of Steve Jobs was awarded the 2019 Grammy for the 'Best Opera Recording' - including composer Mason Bates, conductor Michael Christie and cast members Sasha Cooke, Jessica E. Jones, Edwards Parks, Garrett Sorenson and Wei Wu.
The 2019 Grammy award for the 'Best Classical Compendium' was awarded to conductor JoAnn Falletta and producer Tim Handley for their Fuchs: Piano Concerto 'Spiritualist'; Poems Of Life; Glacier; Rush release - recorded with the London Symphony Orchestra on the Naxos label.