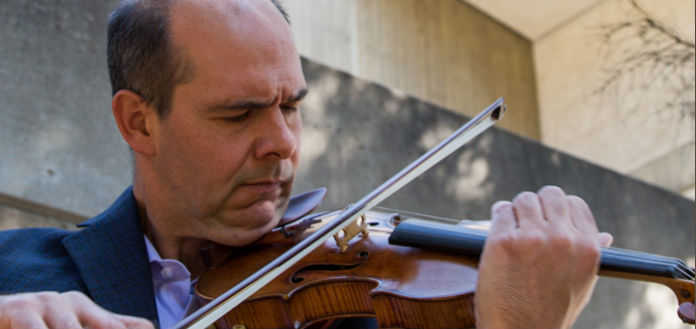 The Violin Channel member Robert Ingridson, from the United States was keen to know: 'Is it really important for all performers to learn to teach?'
We threw Robert's question over to Dallas Symphony Orchestra Concertmaster and Indiana University Jacobs School of Music faculty member, Mr Alexander Kerr:
"Hi Robert,
Should performing musicians learn to teach?
Without a doubt, performing musicians should learn to teach!
I truly love teaching. It is a basic part of who I am and I can honestly say that it has been every bit as fulfilling as my performing career. That being said, in today's increasingly competitive environment, musicians MUST be fluent in every facet of our endeavor. Young people must be more well-rounded and even more entrepreneurial than my generation was twenty years ago; ready for any opportunity that comes their way, whether orchestral, soloistic or pedagogical. People who succeed in our field are sometimes considered "lucky" but in my opinion, luck is merely opportunity coupled with preparedness!
Teaching also helps the teacher. Throughout my career, working with others has helped solidify my own violin playing. By putting my technical ideas into a succinct, coherent and verbal form, I have been able to better outline and simplify my approach, allowing me to be less occupied with mechanical thoughts on stage. I can therefore concentrate more on relaxing my body and communicating my musical ideas to my audience. Einstein once said that "if you can't describe something simply, you don't understand it well enough." By being forced to explain my process in the simplest terms to others, I have gained a deeper understanding of the inner workings of violin technique.
Lastly, teaching keeps me young! Being in constant contact with the next generations of up and coming artists makes it easier for me to relate to them in professional situations and it inspires me not only to sustain the level of my playing but continuously search for new ways of improving it.
I am so lucky to have had such a diverse career as a musician. I can't even imagine my life without teaching as an integral part of that mix, so I strongly encourage every young musician to, at the very least, take a pedagogy class as part of their college education. It will only help make one an even better and more complete artist.
– Alex"
A graduate of the Curtis Institute of Music, American violinist Alexander Kerr currently serves as Concertmaster of the Dallas Symphony Orchestra – and holds a distinguished teaching position at the Indiana University Jacobs School of Music.