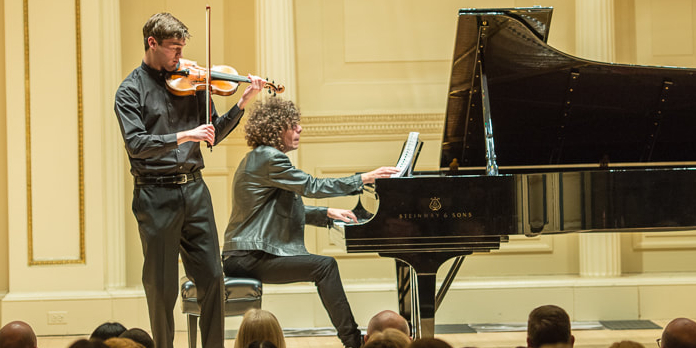 Applications are now open for the 2021 "Getting To Carnegie" Violin Competition. There is no fee to apply.
In addition to receiving $2,500, the winner will be the featured violinist at Carnegie Hall's Weill Recital Hall at the 2022 Getting to Carnegie Competition, and at the 17th Water Island Music Festival, in St. Thomas, USVI.
Due to COVID-19, the Final Round will not be held at Carnegie Hall in 2021 but will be held online and streamed on The Violin Channel's Facebook page.
Fifty percent of the vote will come from the audience watching the live stream on the Violin Channel's Facebook page, the other fifty percent of the vote will come from a jury of professional musicians.
The first round will consist of a video recording of a freely chosen 3-5 minute work from the standard violin repertoire. Four finalists (and four alternates) will be chosen by Dec 15, 2020 to proceed to the Final Round, which will consist of playing a movement of Sonata No. 4 for Violin and Piano by Julian Gargiulo.
"Getting to Carnegie's mission remains the same in spite of the global pandemic: raising awareness about Classical Music as something fun and approachable for all ages," Gargiulo said.
"This year's competition has shifted 100 percent 'online'.  While we will miss the "live audience" feeling, our goal of bringing music to a wider public is happening - thanks to the Violin Channel, the final round will be streamed to hundreds of thousands instead of being limited to those seated in Carnegie Recital Hall."
"We are very excited to hear what the best young violinists of this generation are sounding like after months of practice in quarantine!"
Previous major prize winners include VC Young Artist Nathan Meltzer.
For further details, visit: https://bit.ly/2K0CGmv and on Facebook.
To apply: e-mail [email protected] the following information by Dec 10, 2020:
1. Biography (including date of birth)
​2. Demo video link of 3-5 minute performance
3. E-mail address