VC ARTIST
Violinist

Nathan Meltzer

Born On June 5, 2000

Born in United States

United States

Violin Storioni violin on generous loan from the Rin Collection
Bow Dominique Peccatte

Education
The Juilliard School

Teachers
Itzhak Perlman | Li Lin

Notable awards/competitions won
2022 Sibelius Competition Second Prize | Prizewinner 2022 Singapore International Violin Competition | 2020 Salon de Virtuosi Career Grant | Windsor Festival International String Competition First Prize


American violinist Nathan Meltzer has garnered worldwide attention as a young musician at the forefront of a distinguished career.
Major prize winner at the 2022 Sibelius and Singapore International Violin Competitions, youngest ever to win the Windsor Festival Competition, and recipient of the Salon de Virtuosi Career Grant, Nathan is establishing a holistic and multi-faceted career as a soloist and chamber musician, with passions for both standard and contemporary repertoire.
Nathan has performed as a soloist with numerous major orchestras, including the Philharmonia Orchestra, the Orchestre national d'Île-de-France, the Royal Northern Sinfonia, the Finnish RSO, the Helsinki Philharmonic, and the Aalborg, Berlin, Charlotte, Concepción, Evansville, Indianapolis, Medellín, and Pittsburgh orchestras, among others, performing across Europe, Asia, and the Americas.
As a chamber musician, Nathan has performed with celebrated musicians through the Parlance Chamber Concerts, Jupiter Symphony Chamber Players, Kallos Chamber Music Series, the Terezin Music Foundation, Project Music Heals Us, the Heidelberger Frühling, and Midori's Partners in Performance, as well as at festivals including ChamberFest Cleveland, Krzyżowa Music, the Moritzburg Festival, the Ravinia Festival, the Perlman Music Program, and the Verbier Festival Academy. He is also the Artistic Director of Opus Illuminate, a non-profit chamber music organization dedicated to the works of composers from historically underrepresented communities.
A Juilliard graduate and student of Li Lin and Itzhak Perlman, Nathan plays a Storioni violin on generous loan from the Rin Collection.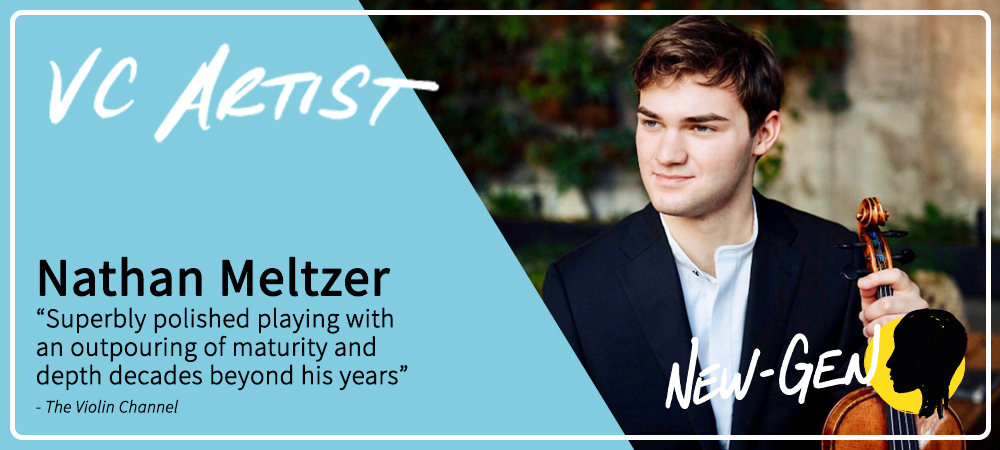 What are your hobbies outside of music?
I've spent the past few years getting deeply invested into coffee, and I make it a point to visit as many cafes that I can wherever I travel to. And I try to combine that with my love of biking, leading me to bike rather long distances for a cup of coffee that I want to try. I also really enjoy cooking!
If you were not a musician, what profession do you feel you'd be doing now?
It would be my dream to run a cafe. And if I was able to, I'd love for it to double as a contemporary chamber music venue in the evenings, but maybe that would still constitute me being a musician :)
What would be your dream gig?
Any concert where I'm able to play music that I love and am interested by with musicians that challenge and inspire me is a dream gig!
What is a song that makes you turn the radio up?
I love Hozier and Sammy Rae, so I'll listen to any song by either of them. I was also recently introduced to the the very bizarre Andromeda Mega Express Orchestra, so I'm always curious to listen to more of their stuff.
What would you say makes you unique as a musician?
I think every musician is unique and everyone has something meaningful to share. I try to be the best version of myself and say what I want to say when I'm playing music that I love.
Do you keep all 3 meals phone free? No social media scrolling.
When I eat with other people, of course I try to be phone free! When I'm alone though, I'm generally on YouTube or watching a show on my iPad.