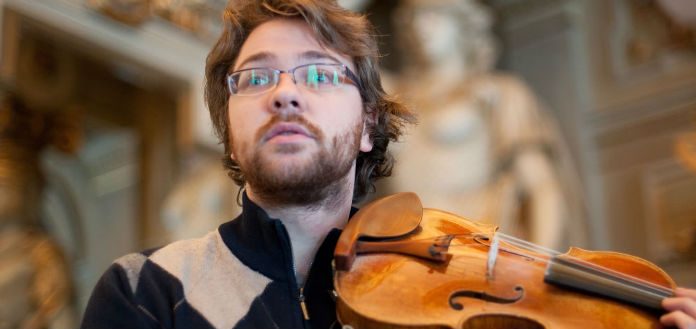 VC member Marley Jones from Australia was keen to know how music pedagogues' teaching methods and styles are generally influenced by their former teachers.
We threw Marley's question over to Zurich University for the Arts and Royal Northern College of Music violin teaching faculty member, Alexander Sitkovetsky.
"I have been very fortunate to have had 5 primary teachers who have all played a huge role in my development as a violinist and a musician. I can still remember their distinct voices, actions and instructions. I also had many masterclasses with wonderful professors and I would like to think that I listened to them all with great attention.
Every teacher is unique but of course there are certain fundamentals that all professors can agree on, such as the need to be as free with your body and your arms as possible, to keep both shoulders from lifting unnaturally and most importantly to listen to yourself and concentrate for every second that you practise.
I know that there are certain things that I have picked up from all my teachers; I was very lucky to have the very best of the Russian School from Natasha Boyarsky and Maya Glezarova (the legendary teacher who passed away last week at the age of 92), as well as Hu Kun, my professor at the Royal Academy of Music, whose teacher was a student of Yankelevich. Pavel Vernikov was from the famous Stolyarsky Music School in Odessa and a student of David Oistrakh, and Ana Chumachenco is a true violinist of the world, coming from the Schools of Spiller, Thibaud, and Menuhin.
With these wonderful professors possessing such strong personalities, I have of course absorbed a lot from all of them, and when it comes to teaching my own students, I often subconsciously repeat many of the things that they used to tell me. But I think that this is perfectly natural and is also a consequence of what I hear them do, as most violinists have very similar issues to work on and to improve. I also strongly feel that it is our generation's privilege to pass on what we have learnt from our teachers and it is a responsibility that we should embrace.
It is also natural that as I develop as a teacher, I look for my own set of solutions to improve myself and my students, based on my own experiences as a performer and a teacher. To solve a fundamental issue that the student might have over a period of time is probably the most satisfying part of being a teacher, because that is much harder than to do a quick fix that improves the player for a day but which doesn't solve the underlying problem.
At the end of the day, everything comes back to listening and this was probably the most important thing that I was taught by my teachers and the first thing that I try to pass on to my students. As Maya Glezarova used to tell me; "If you listen to yourself, you can learn to play with your feet." While playing the violin is tough enough with your hands, I understand her completely and I hope that my students do as well.
-Alexander"
A graduate of the Yehudi Menuhin School, Russian-born British violinist Alexander Sitkovetsky is a founding member of the Sitkovetsky Piano Trio - and currently serves on the violin faculty at the Zurich University for the Arts and the Royal Northern College of Music
Do you have a burning question for one of the Pros? Simply email: [email protected]