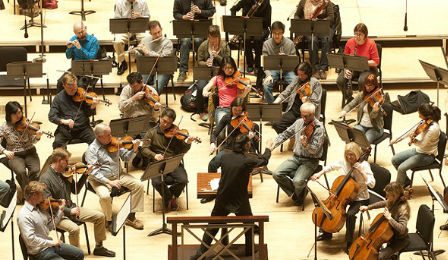 The Atlanta Symphony Orchestra has today announced the end of a two-month lockout after reaching a deal that would give its musicians a 6% raise over the new four-year contract - but require them to pay more for their health insurance.
The new collective bargaining agreement, reached with the help of professional Federal mediators, was approved just days before the orchestra's 70th season opening concert on November 13th – where Music Director Robert Spano will lead Beethoven's 9th Symphony and Mozart's Violin Concerto No. 5, with the orchestra's Concertmaster, David Coucheron.
"This agreement brings the restoration of a harmonious relationship within everyone's grasp based on work we must do together to restore missing positions in the Orchestra while stabilizing and advancing the financial position," ASO Associate Principal Violist and President of the Musicians' negotiating team Paul Murphy has said.
"While completion of the agreement is wonderful news, the reality is that the hard work begins now," Orchestra President and CEO Virginia Hepner has said, " … together we must find new, compelling ways to engage the community to assure the support the Orchestra needs."
The lockout began on September 7th after the orchestra's parent organisation, Woodruff Arts Centre sort further pay concessions - for the third season in a row.