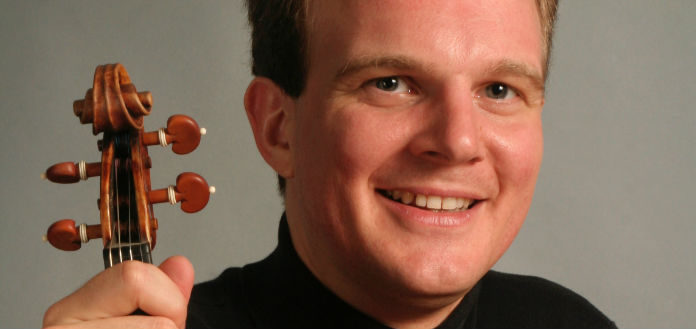 The Violin Channel member Vincent Brown from the United States was keen to know: "Does competition success propel a soloist into a career?"
We threw Vincent's question over to McGill University's Schulich School of Music string department chair, Professor Axel Strauss.
"Dear Vincent,
Ah, competitions! Can't live with them can't live without them!
I have always had a love-hate relationship with them, although many of the ones I participated in have shaped my life as a violinist (and otherwise) in significant ways.
As early as 8 years old I began competing in "Jugend musiziert", a well-known national competition in Germany, my native country. I won my first international competitions in Italy and the Czech Republic at the age of 14 and later won the Silver Medal at the Wieniawski Competition in Poland, the Enescu Competition in Romania and the Bach Competition in Leipzig/Germany.
After moving to New York in 1996, I decided in 1998 to participate in the Naumburg Competition. Winning the Naumburg Award gave me two full concert seasons of recitals and concerto performances with orchestras all over the country. This visibility and a recommendation from then-Naumburg President Robert Mann led to a teaching position at the San Francisco Conservatory of Music, where I taught until 2012, when I accepted a position at McGill University in Montreal/Canada.
Going back to the love-hate relationship, the "hate" part comes from the fact that I fundamentally don't believe in music as a vehicle for competition, which implies determining winners (and losers).
But participating in competitions also came with undeniable benefits:
- They gave me a tangible goal to work for and motivated me to prepare with tremendous focus and determination
- They made me learn and polish a lot of repertoire
- They taught me how to deal with rejection (although I did not see that as a benefit at the time…)
- The ones I won gave me great new concert opportunities and public visibility and got me in touch with managers, conductors and other important people that can help build a career
I see competitions as only one piece in the puzzle of assembling a performing career. In my case that piece was rather large, and I am grateful for the many opportunities I have been given and for the many people that have helped me along the way!
-Axel"
Axel Strauss is a former major prize winner at the Enescu, Bach, Wieniawski and Kocian International Violin Competitions and New York's prestigious Naumburg Competition | He studied with Petru Munteanu at the Music Academies of Lübeck and Rostock and at The Juilliard School with Dorothy DeLay | He currently serves as Professor of Violin and Chair of the String Area at McGill University's Schulich School of Music, in Montreal – and has also served as Guest Concertmaster of the Berlin Philharmonic and the Montreal Symphony