VC WEB BLOG | Violinist Berent Korfker - "My Inspiration for Inventing the Pirastro KorfkerRest" [BLOG]
In a VC-exclusive blog, Pirastro KorfkerRest inventor Mr Berent Korfker talks us through his inspiration behind the new violin and viola shoulder rests
The Violin Channel recently caught up with Pirastro KorfkerRest inventor, violin pedagogue Mr Berent Korfker.
In a VC-exclusive blog, the Dutch-born Royal College of Music violin professor talks us through his inspiration behind the innovative new violin and viola shoulder rests.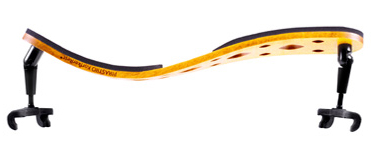 "Due to the popularity of the KorfkerRest for violin it took us a while to get to this point, but I am very happy to see the viola model of the KorfkerRest coming to the market at the start of 2018! From the start viola players will be able to enjoy the improved rubber feet and pads we recently introduced in our Model 2 rest for violin.
The story of these rests started when I was an inspired 14 year old violinist not able to find the right shoulder rest. All available rests were either unstable or uncomfortable and some even damaged my violin! With some modifications I was able to make some rests work for me but I was never 100% satisfied. Years later I played a beautiful Stradivarius and I became fascinated by how much effect these shoulder rests had on the sound of our beautiful instruments.
It was during this time that I became involved in string testing for Pirastro and met their technical director. I was very inspired by his inventive genius! When demonstrating the negative acoustical effects of shoulder rests to him he challenged me to find a solution. This was the start of a process which took me into many disciplines including acoustics, woodworking, physics and chemistry!
I started off by envisioning a totally free sounding instrument and invented the now patented way to attach the shoulder rest to the violin found on the KorfkerCradle. The next step was to make the perfectly fitting shoulder rest which of course would need to be customisable and made of wood. But how?? This is where bendable wood came in. It took years but we tweaked it so it was just right. Wood strong enough for making a shoulder rest but bendable enough to subtly change its shape. Then came the challenge of of the final design, shape, materials, colour, varnish…. everything needed to be checked for acoustical effects. This is how I came to the final models of the KorfkerCradle and Korfkerrest, with lots of patience, perseverance and amazing support from Pirastro.
What I always knew was that Pirastro is obsessed by the quality of their products and the user experience. They are used to providing unmatched world-wide customer support. When the shoulder rests came to market we developed a website with information, video tutorials and FAQs. From there Pirastro's customer support team can be contacted directly with enquiries and feedback and is often able to respond within a day. This contact with our customers is extremely valuable and influences how our products evolve. A clear example of this is the new version of the KorfkerRest called the Model 2.
Reviews online and numerous reactions we receive show an enormous support for these designs, support which inspires me to continue to develop further ideas. I want to help fellow musicians to find freedom in their playing and for them to enjoy the sound of their instruments to the fullest!
-Berent"
Violinist Berent Korfker is credited as the inventor of the innovative KorfkerCradle and KorfkerRest – the new shoulder rest alternatives released by German string manufacturer Pirastro in 2014 | A graduate of amongst others the Hochschule für Musik in Cologne and the Queen Sofia College of Music, where he studied with Zakhar Bron, and a private student of Shmuel Askenasi, Berent has performed extensively worldwide | In 1999 he was appointed official teaching assistant to Professor Zakhar Bron at the Hochschule für Musik in Cologne – and currently serves a teaching Professorship at London's Royal College of Music | For more information on the Pirastro KorfkerRest, visit: www.pirastro-shoulderrests.com
Enter now to be one of the first in the world to own and play a new Pirastro Viola KorfkerRest - valued at over $250