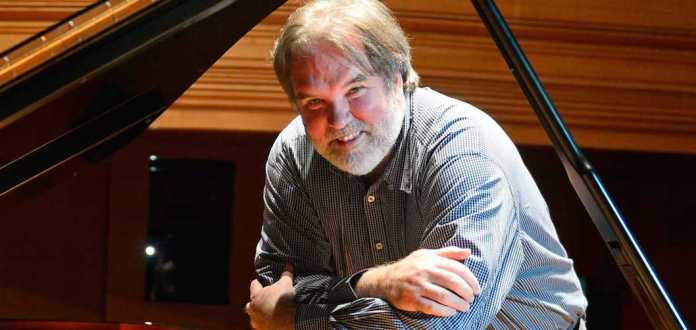 The Violin Channel recently caught up with Professor Bernard Lanskey, Director of the Yong Siew Toh Conservatory of Music, in Singapore and Artistic Committee member of the upcoming 2015 Singapore International Violin Competition.
We sat down with Professor Lanskey to discuss the vision behind the inaugural international event, the jury and candidates selection - and the competition's unique initiatives for kick starting its laureates' careers.

Hello Professor Lanskey. Thank you for joining us here on The Violin Channel. Tell us how this idea to start a competition in Singapore began and how it has come to fruition?
"Thank you. Great to be here.

Singapore has a strong violin tradition going back now several generations. It has had a national violin competition organised by the Singapore's National Arts Council and there has long been a desire to try and evolve the top category of that to a fully fledged international competition.

Similarly Mr Rin Kei Mei, a Singaporean entrepreneur and philanthropist, who has a large personal collection of quality violins and string instruments had been keen to bring an international event of this nature to the region – with the vision of showcasing Singapore globally and to serve as a cultural inspiration for the local community. I agree with him that there is an incredible evolution in classical music here, with strings and indeed the violin at the centre of it, and that it will be great to let the world know. All the ingredients are here for a world class competition: a wonderful audience here, a strong violin tradition, world-class halls, a well-established professional orchestra and the desire to support the event both conceptually and financially.

Over the past few years, the Conservatory has therefore been working with the National Arts Council of Singapore to take the idea forward. While the conservatory is driving the first event, it has been great to connect with willing partners such as the Esplanade – Theatres by the Bay, Singapore Symphony Orchestra, Victoria Concert Hall and Symphony FM so that together we can launch the inaugural competition in January 2015 to coincide with Singapore's 50th anniversary.

Excitingly, Mr Rin has committed donations to 5 triennial competitions – taking us through to 2027, and has also gathered the support of a number of foundations in Singapore, including the Far East Organisation, Hong Leong Foundation and Lee Foundation, our founding partners."
That is very exciting news. You are a founding Artist Committee member tasked with the implementation of the vision, what is your experience in this field?
"Since 2008 I have served as the Director of the Yong Siew Toh Conservatory here in Singapore, and I previously served as Assistant Director of Music at the Guildhall School of Music in London, for 15 years.

While personally I have served as the Chair of the Geneva International Piano Competition and I have worked as a piano collaborator with a number of international violin competitions, including the Kreisler, Carl Flesch, Freiburg and Tibor Varga., the real driver for the vision has been our Head of Strings, Qian Zhou, who is not only a major competition winner herself (winning all prizes in the 1987 Thibaud Competition) but also increasingly experienced as a jury member around the world. It has been great working with her to create a competition which focus on values at the core of the world's violin traditions, from the playing and repertoire perspectives. I respect her greatly as an artist but in particular I value her integrity, commitment and her idealism in relation to this event – she has a strong and clear vision for the event which I fully support: the most important thing is to have a high-level set of candidates who get good opportunities to play great repertoire in world-class halls and who are judged fairly and supportively by a world-class jury. We have also drawn on the experience of other top professionals in this field, including Committee member Didier Schnorhk – Secretary General of the World Federation of International Music Competitions so that we can test our ideas, and the details of their realisation, along the way.

The other Artist Committee have been able to give helpful additional perspectives on the artistic and professional world connecting to music: Lan Shui, Music Director of the Singapore Symphony; David Takeno, International Chair of Violin at London's Guildhall School of Music, and international concert artist Renaud Capucon. All well-known in Singapore, the Conservatory here and the wider musical world."
You have recently announced 35 international candidates who will come to Singapore to compete in the 2015 inaugural competition. Are you happy with the response and level of presentation witnessed from the applicants?
"We are absolutely delighted. We received 148 applications from 27 countries, including applicants from China, USA, Japan, Korea, Taiwan, Singapore, Poland, Russia, Australian and Canada – proving the truly global nature of the competition.

Among the exceptional level of candidates selected are recent major prize winners from the Hannover, Indianapolis, Sendai, Isang Yun, Sarasate and Sibelius International Violin Competitions.

I have been working and playing with string players in conservatories for more than 20 years and for an inaugural competition, I regard this response as something truly extraordinary."
Additionally, you have attracted an extremely high calibre international jury - including respected pedagogues Qian Zhou, Pierre Amoyal, Shmuel Ashkenasi, Kim Nam Yun, Takashi Shimizu, Vilmos Szabadi, Dima Tkachenko, Tong Wei Dong and Krzysztof Wegrzyn. Tell us about this process and the competition's proposed scoring methodology?
"We are very privileged to have assembled an extremely respected and knowledgeable international jury. We found if people were available, they were willing to say 'yes' - perhaps out of curiosity and interest as historically first versions often yield distinctive winners. I think it was also because they respect Qian Zhou and also that they believe Singapore offers an environment which can be both classy and fair. Some jury members have visited the conservatory and conducted master-classes so are familiar with our set up, know the spaces and have witnessed the level of professionalism here; others, I think, are clearly curious to know more about here.

Also January is a nice time to visit the tropics, particularly if coming from the northern winters!

Our jury scoring system will be built out from traditional practices, with some accumulation across the competition. We are still finalising the some small details, particularly so as to be able to be as transparent as possible with the public. We realise how important this dimension is and we are working hard to get this right."
We have noticed that there are 3 venues that will be used to stage the live rounds? Could you please explain this decision?
"We recognised the need to challenge candidates to see how they respond to different spaces and stages – and we here in Singapore are thankfully blessed with a number of world-class performing arts venues, including the Yong Siew Toh Conservatory Music Concert Hall, the European-inspired and newly-reopened Victoria Concert Hall and the 1600 seat Esplanade Concert Hall.

All three venues will be used during the adjudication process. We believe each space is ideal for the repertoire at the relevant stage – it will be interesting to see how candidates adjust."
And finally, beyond just prize money – what are some of the other opportunities the competition stands to present its candidates?
"The 1st prize winner will receive $50,000 USD, a CD recording produced and distributed globally by the Naxos label, high end international artistic manager representation - plus a number of international performance opportunities, including a concerto engagement with the London Philharmonic Orchestra.

A number of established international artist management representatives will be present to hear the performances first hand of all 12 final competitors. Different managers look for different characteristics, personalities and distinctiveness and we recognise the importance of providing this exposure for all 12 of our final candidates.

Mr Rin Kei Mei has also generously agreed to provide a 3-year loan of quality rare instruments, from his private collection to all of the top 6 prize winners who may be in need."
Thank you so much for your time Mr Lanskey. We are very much looking forward to competition from the 10th-21st January.
The 35 opening round candidates are: VC 'Young Artist' William Hagen from the United States, VC 'Young Artist' Timothy Chooi from Canada, VC 'Young Artist' Alexandra Conunova from Moldova, VC 'Young Artist' Richard Lin from Taiwan, VC 'Young Artist' Boson Mo from Canada, VC 'Young Artist' Fedor Rudin from France, VC 'Young Artist' Yu-Chien Benny Tseng from Taiwan, Tianyang Gao from China, Shucong He from China, Yat Sze Wong from Hong Kong/China, Yun Tang from China, Yuquing Zhang from China, Petteri Iivonen from Finland, Lukas Stepp from Germany, Chisa Kitagawa from Japan, Karen Kido from Japan, Ryota Kuratomi from Japan, Elina Buksha from Latvia, Jun Hong Loh from Singapore, Lijia Phang from Singapore, Ian Ike See from Singapore, Ui-Youn Hong from South Korea, Bomsori Kim from South Korea, Eunae Koh from South Korea, Youjin Lee from South Korea, Ji Eun Anna Lee from South Korea, HyunJae Lim from South Korea, Yu Ah Ok from South Korea, Francisco Garcia Fullana from Spain, Yu-Ting Chen from Taiwan, Oleksandr Korniev from Ukraine, Sirena Huang from the United States, Mimi Jung from the United States, Christopher Scherer from the United States and Elly Suh from the United States,
Tickets to all sessions are available at www.sistic.com.sg – starting from just S$10.00.
The Violin Channel will be reporting live from all 3 venues for the entire 12 days, as the 2015 competition's 'Official Online Media Partner' – You won't miss a beat!