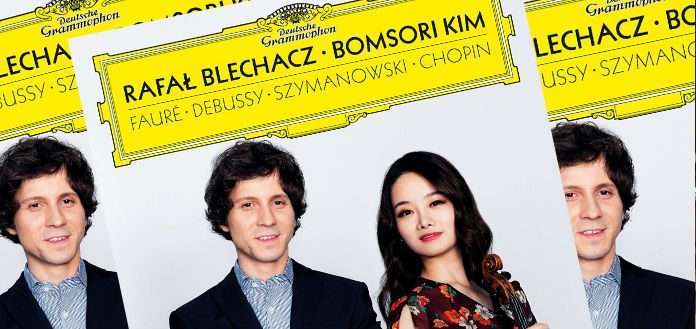 Deutsche Grammophon has this week announced the international release of VC Artist Bomsori Kim and acclaimed Polish pianist Rafal Blechacz's new album: Faure, Debussy, Szymanowski, Chopin.
The disc features Faure's Violin Sonata No. 1 in A Major, Debussy's Violin Sonata in G Minor, Szymnowski's Violin Sonata in D Minor - and legendary violinist Nathan Milstein's violin and piano arrangement of Chopin's Nocturne in C-Sharp Minor.
https://vimeo.com/310556494/85f52c4084
"As a duo, Rafal and I were looking for repertoire that showcased our partnership - yet still enable us to project our personalities …" Bomsori has told The Violin Channel.
"We chose a number of repertoire gems including Szymanowski's 
Violin Sonata … a real hidden treasure full of passion and energy that we both agreed deserved to be played more often …" the Wieniawski, Montreal, Joseph Joachim, Tchaikovsky, Sendai, Sibelius and ARD International Violin Competitions major prize winner has said.
"Whilst listening to this CD, we ask you to try not to overthink it or feel the need to understand every phrase … just simply let the music guide you on an incredible musical journey … it really is a blessing to have music like this in our lives."