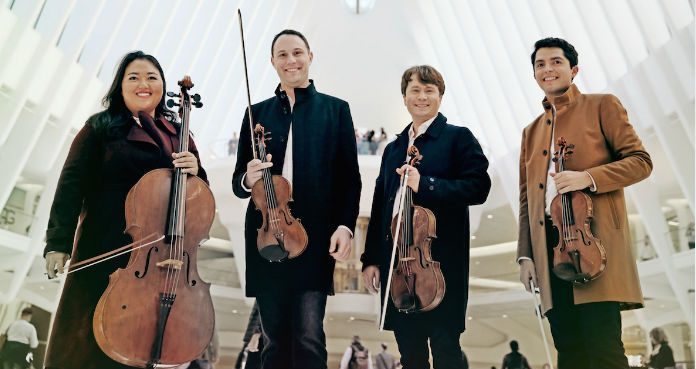 The Violin Channel member Sally Frankel from the United States was keen to know: "How does the way you play a piece change as you bring it on tour?"
We threw Sally's question over to the VC Artists Calidore Quartet:
"A teacher once told us that we can practice a piece as much as we want, but we can't achieve the highest level without having the experience of performing the work.
For instance, we have performed Mendelssohn's String Quartet Op. 80 nearly one hundred times in concert and have included it on our upcoming album Resilience.
Through the years of performing op.80 in diverse settings and for audiences across the world, we have learned how to emotionally pace ourselves for a piece that is so demanding.  
We've learned where to conserve energy and when we need to 'bring it.'
For example, so much of Mendelssohn's quartet is filled with audible rage and angst, everything is directed outward. The beginning of the third movement, however, brings introspection and vulnerability.
This is where Mendelssohn seems to stop raging about his sisters' death and looks wistfully with nostalgia on the time they spent together.  
It is at this point that we must channel our energy and rein everything in to create this intimate moment after so much heat and passion.
It takes a tremendous amount of control and requires us to find the right amount of space between movements to gain poise.
If our playing has any lingering intensity in this moment, then everything sounds homogenous. This is something we have learned over the course of years of performances and is something we are always honing.
With each performance of this or any piece, we learn from playing for an audience. We record all of our performances, then listen to it the next day before the next concert, rehearsing the spots that weren't as we imagined them to be, making changes when needed.  
There is nothing like the pressure of an imminent concert to encourage efficiency in our practice.
It could become almost a chore to regurgitate the same interpretation of a piece night after night, so though we practice to have cohesive ensemble, matched articulation, and homogenous phrasing when necessary, we find it essential to explore the moments where we can have flexibility with timing, dynamics or freedom in the phrase that keeps us present and on our toes during the performance.
We are always discovering new ways of interpreting a piece to maintain the feeling of creating music in the moment.
-Calidore Quartet"
Comprising violinists Jeffrey Myers and Ryan Meehan, violist Jeremy Berry and cellist Estelle Choi, the Calidore Quartet are former top prize winner at the M-Prize, Fischoff, Hamburg and ARD International Chamber Music Competitions