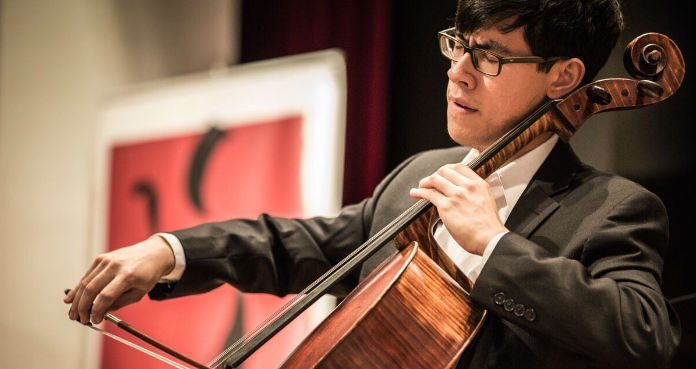 Astral has today announced the 37 candidates for the final live rounds of the 2017 Astral National Auditions - including VC Young Artist Zlatomir Fung.
VC Young Aritst Zlatomir Fung (Cello)

Mary Elizabeth Bowden (Trumpet)

C Street Brass (Brass Quintet)

Junhui Chen (Piano)

Moye Chen (Piano)

Youna Choi (Cello)

Kyungwha Chu (Piano)

Laura del Sol Jiménez (Flute)

Carl Gardner (Bassoon)

Isabel Lepanto Gleicher (Flute)

Rachel Hall (Harp)

Alexander Hersh (Cello)

Michael Katz (Cello)

Beomjae Kim (Flute)

Jean Kim (Cello)

SangYoung Kim (Piano)

Kontras Quartet (String Quartet)

Brittany Lasch (Trombone)

Christine J. Lee (Cello)

The Lyra Ensemble (Flute Quartet)

Thomas Mesa (Cello)

Marla Nistico (Flute)

Yeontaek Oh (Piano)

Grace Park (Violin)

Mariana Prjevalskaia (Piano)

Emma Resmini (Flute)

Ronaldo Rolim (Piano)

Sarah Rommel (Cello)

Ji Won Song (Violin)

Nicholas Susi (Piano)

Ulysses Quartet (String Quartet)

Eric Christian Umble (Clarinet)

Zitong Wang (Piano)

Larry Weng (Piano)

Yevgeny Yontov (Piano)

Anna Yukio (Piano)
An independent panel of industry leading musicians, agents, and presenters will adjudicate the live auditions.
The auditions will be hosted in June in Philadelphia, with the 2017 winners to be invited to join the esteemed Astral Artists roster – for customized career development mentorship, marketing, performance opportunities and community engagement experience.
Previous audition winners include: violinists Judith Ingolfsson and Soovin Kim – and VC Artists Nikki & Timothy Chooi and Benjamin Beilman.
PICTURED: VC Young Artist and 2017 Astral Auditions Candidate, Zlatomir Fung