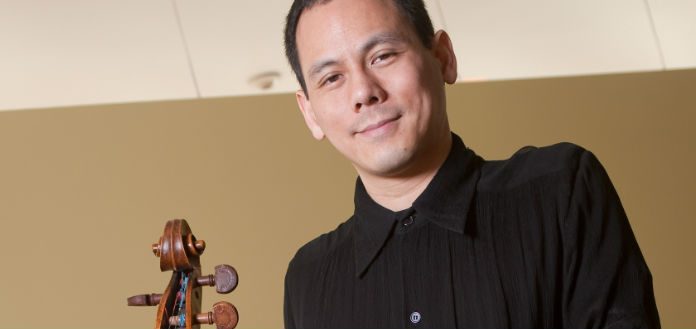 The Violin Channel recently caught up with Chinese-American cellist, Bion Tsang.
In a VC-exclusive blog, the University of Texas - Butler School of Music Head of Strings talks us through his own, personal teaching inspirators.
"I had the good fortune as a student to work with some wonderful cello pedagogues: Leonard Rose, from my pre-college years at the Juilliard School, and William Pleeth, from my "time off" in London between college and graduate school, to name just a couple. Always influencing me as well are my personal obsessions with Pablo Casals, Gregor Piatigorsky and Mstislav Rostropovich, those iconic historical figures of cello playing.  In my cello studio at the UT Butler School of Music, my students and I spend a fair bit of time studying videos of the great masters.  We learn not only from watching cellists, but also observing the physical movements of the great masters of violin such as Jascha Heifetz, Isaac Stern and David Oistrakh.
However, when I think about the core of my teaching philosophy, there are really two names that come to the fore: Louise Vosgerchian, my Harvard theory professor, and Aldo Parisot, my cello professor from Yale.
Studying music at Harvard College was a liberating experience for me.  Since a music performance degree was not offered there, I was forced to think about music away from my instrument. Louise Vosgerchian, or "Miss V" as we affectionately called her, was my first music professor at Harvard, teaching music theory 101.  I would find a way to work with her—often through an independent study—every subsequent semester until I graduated.  With her at the piano, we methodically went through all the Beethoven and Brahms cello sonatas, dissecting the choices each composer made in terms of the four basic elements of music (harmony, melody, rhythm and texture) and how those choices affected the resulting feeling of tension and release and varying degrees of it.  Miss V would always ask me, "What if the composer had written this instead…how would that change how the music feels?"  It's a method that I use with my students all the time.
After graduating from Harvard, I really needed to get back to learning how to play the cello.  At that time, none of my teachers had ever really addressed the question of whether or not I knew, at any given moment, exactly what I was doing physically at the instrument.  I was wildly inconsistent in my performances, and going to study with Aldo Parisot was exactly what I needed.  He helped me to gain a deeper understanding of the most basic technical principles, about eliminating physical variables and utilizing my body as naturally as possible.  I learned to practice in such a way that finally helped me achieve consistency. It's what I preach to every one of my students today: if you don't know exactly what you need to do physically at every moment then you have no chance of playing consistently. Once the technique is dependable then the artistry can really shine through.
-Bion"
A graduate of the Juilliard School, Harvard University and Yale University, where he studied with Aldo Parisot, Ardyth Alton, Luis Garcia-Renart, William Pleeth, Channing Robbins and Leonard Rose, Bion Tsang is a former prize winner at the Tchaikovsky International Cello Competition and a recipient of prestigious Avery Fisher and MEF Career Grants | He has appeared as a soloist with a number of prominent international orchestras, including the New York Philharmonic, Moscow Philharmonic and the Hong Kong Philharmonic - and serves as Head of Strings at the University of Texas' Butler School of Music