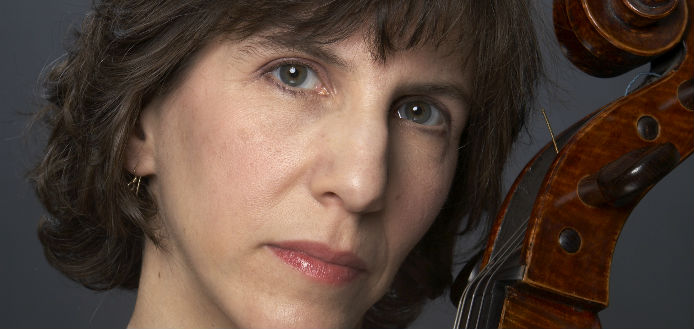 VC member Victoria Tsai from the United States was keen to know how to improve her stage performance presence.
We threw Victoria's question over to acclaimed American cellist, Ms Natasha Brofsky.
"Performance presence is born out of a sincere and deep connection to the music you are playing and the desire to share this with your audience.
Ask yourself this important question: What do you want your audience to experience as they listen to your performance? If, while you are performing, you are worried about how you are coming across visually, whether you or the audience likes what you are doing or how you look, then your focus is not in the right place. Just as actors transform themselves into characters, we musicians must focus on the character and emotion behind what we are playing and how the energy and spirit of the music is conveyed through us and our instrument to our audience.
Learn the music inside and out: Know the whole score, not just your own part. 
Ask yourself how the phrasing, harmony and texture of the music create atmosphere, energy and direction. These elements are essential to your performance presence.
Use your imagination to color your sound. Experiment with extremes of all kinds: Dynamics- what are the softest sounds in the piece and what are the loudest? What is the most intimate moment? What is the most extroverted moment? What is the calmest section? The most boisterous passage? After establishing extremes, you can work on pacing and how to get from one type of passage to another. In the practice room devote time to working on performance.
After you have worked on perfecting small bits, play through large sections to work on your performance concentration, focusing on what you want your audience to experience as they listen to you. As you get closer to your performance date, perform larger and larger sections in your practice.
On stage, keep your listening alert and use the resonance of the concert hall as an extension of your instrument.
Remember that you are communicating with your audience through sound, and the more of yourself you invest in the quality and character of the sounds you are creating, the greater your performance presence will be.
-Natasha"
A graduate of the Eastman School of Music and the Mannes College of Music, cellist Natasha Brofsky previously held Principal Cello positions with the Norwegian Radio Orchestra and Norwegian Chamber Orchestra and has performed extensively throughout the United States and Europe as a member of the acclaimed Peabody Trio - for the past seventeen years | She currently serves cello teaching positions on faculty at The Juilliard School and the New England Conservatory
Do you have a burning question for one of the Pros? Simply email: [email protected]