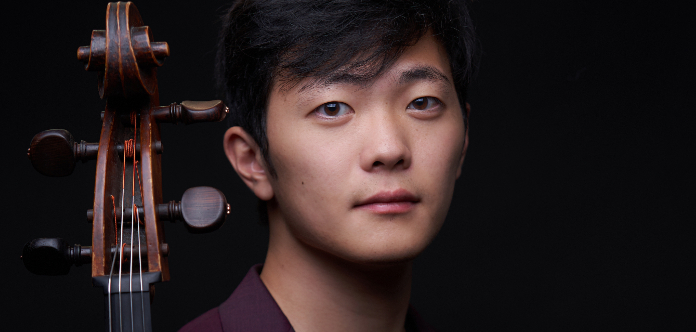 Brannon is a graduate of Northwestern University's Bienen School of Music and the New England Conservatory, where he studied with Hans Jørgen Jensen and Laurence Lesser, and is currently a Professional Studies Program student of Frans Helmerson at the Kronberg Academy.
He is a former major prize winner at the Naumburg, Cassadó, Johansen and Queen Elisabeth International Cello Competitions and was awarded 1st prize at the 2018 Paulo International Cello Competition, in Helsinki, Finland.
Brannon's recent solo engagements include performances with the Helsinki Philharmonic Orchestra, Minnesota Orchestra and the Brussels Philharmonic. As a chamber musician, he has collaborated with renowned artists, including Anne-Sophie Mutter, Christian Tetzlaff, Gidon Kremer, and Joshua Bell.
He currently performs on a 1668 Antonio Casini cello.
https://www.facebook.com/brannon.cho/videos/10157740656796247
VC ARTIST BRANNON CHO | BRITTEN | SOLO SONATA NO. 1 | NEXUS CHAMBER MUSIC | GUARNERI HALL | 2020
VC ARTIST BRANNON CHO & VICTOR SANTIAGO ASUNCION | SARASATE | ZIGEUNERWEISEN (ARR. HANS JØRGEN JENSEN) | NEW ENGLAND CONSERVATORY | 2019
VC ARTIST BRANNON CHO & VICTOR SANTIAGO ASUNCION | CHOPIN | ETUDE OP. 25 NO. 7 | NEW ENGLAND CONSERVATORY | 2019
VC ARTIST BRANNON CHO | PROKOFIEV | SINFONIA CONCERTANTE | SUSANNA MALKKI & HELSINKI PHILHARMONIC ORCHESTRA | 2018 PAULO INTERNATIONAL CELLO COMPETITION | 1ST PRIZE
VC ARTIST BRANNON CHO & VICTOR SANTIAGO ASUNCION | BRAHMS CELLO SONATA NO.1 IN E MINOR | NEW ENGLAND CONSERVATORY | 2019
VC ARTIST BRANNON CHO & DINA VAINSHTEIN | BEETHOVEN | CELLO SONATA  NO. 5 IN D MAJOR OP. 2 NO. 2 | NEW ENGLAND CONSERVATORY | 2018
VC ARTIST BRANNON CHO | HAYDN CELLO CONCERTO NO. 1 IN C MAJOR | TAPIOLA SINFONIETTA | 2018 PAULO INTERNATIONAL CELLO COMPETITION | 1ST PRIZE
VC ARTIST BRANNON CHO | SHOSTAKOVICH CELLO CONCERTO NO. 1 | STÉPHANE DENÈVE & BRUSSELS PHILHARMONIC | 2017 QUEEN ELISABETH INTERNATIONAL CELLO COMPETITION 
VC ARTIST BRANNON CHO & VICTOR ASUNCION | PROKOFIEV | CELLO SONATA IN C MAJOR | 2017 QUEEN ELISABETH INTERNATIONAL CELLO COMPETITION 
VC ARTIST BRANNON CHO & VICTOR ASUNCION | ROSSINI | BARBER OF SEVILLE | LARGO AL FACTOTUM (ARR. MARIO CASTELNUOVO-TEDESCO) | 2017 QUEEN ELISABETH INTERNATIONAL CELLO COMPETITION 
VC ARTIST BRANNON CHO | PENDERECKI | SUITE FOR SOLO CELLO | PRELUDIO | 2018
Name:

Brannon

 Cho
Cello: 1668 Antonio Casini
Bow:

1790

Nicolas Leonard Tourte 
Strings:

Thomastik-Infeld Rondo 
Accessories: Andrea "A Piacere" Rosin
Teachers: 

Laurence Lesser | 

Hans Jensen | Frans Helmerson
Schools: New England Conservatory | Northwestern University Bienen School of Music | Kronberg Academy