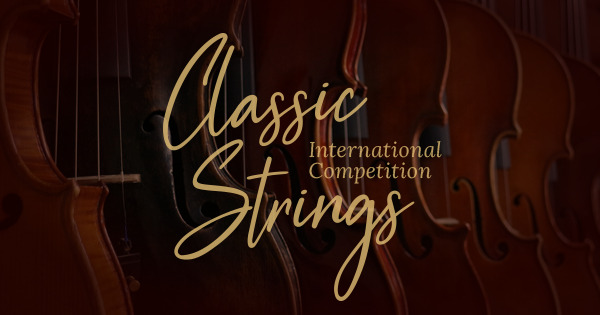 The Violin Channel reached out to jury members on the panel for both the violin and cello rounds of the Classic Strings Competition to ascertain just what it takes to achieve a professional career as a musician — especially coming out of competitions. 
What is your top piece of advice for prize winners at an international competition, to maximize the opportunities from the experience and parlay it into a professional performance career?
1. Try to steer clear of complacency and stay humble, even more so after a win.
Boris Kuschnir:
"Winning is always nice but it is just the beginning. You have to remain humble and put in more work, more practice and dedication because there is still a long road ahead." 
Andrey Baranov:
"Never fall into the trap of thinking you've achieved something very important, that you've achieved enough. Every day you must continue to work and every day you need to get better and learn more, and always know that each concert in every little village is as important for you and for the audience as a concert in Carnegie Hall." 
Boris Andrianov:
"It will be a privilege to show that first of all this person is good, they did a good job, but this is not the beginning of a big thing but just the first step, and they have to prove that the victory was no fluke, so they have to work even more than before, because people will expect something different from him or her from before the competition and that will be a challenge all of its own." 

2. Never stop moving forward with how you wish to see your career unfold — continue to create opportunities for yourself and connect with fellow artists.
Philippe Muller:
"[A competition's] only the start! It's wonderful to win but don't stop practicing — always always look for ways to improve, it's always possible to improve, always, all your life. I hope I myself play better now than when I was 20 years old, even if the fingers are not as agile as they were, I try everyday."
Alexander Chaushian:
"I think winning a competition is nothing really…If you win it means you have worked hard and achieved a certain level, and then you must continue to work hard to get better and better, and the same thing applies to those who do not win as well. There is always room to continue improving."
Boris Andrianov:
"Ultimately, one of the most important things about competitions is to develop, not to stay on your own, to see how other people are playing, to meet people." 
3. How you are as a musician is not only a result of the time spent in the practice room, but is also informed by your personality, habits, and how you choose to live your life. A competition can be a springboard to discovering more about yourself and the music you perform.
Andrey Baranov:
"Each day of practicing, and even when not practicing, what you do, how you live, is extremely important for your level as a player, as a musician, as a human being." 
Henri Demarquette:
"A competition is only a step, only to shed light on a [musical] personality, but it doesn't help one become a personality, an artist, to have a cultural state of mind." 
4. Learn more on how to promote yourself as an artist. Keep discovering your musical style and interpretation, as well as giving each chance your best shot. Be open to new experiences. 
Julian Lloyd Webber:
"I think that you have to take every opportunity that you get, you have to always give your best, and it's crucial that you must be true to yourself and to your own style because in the end if you're not, what's the point?"
Meehae Ryo:
"[Emerging musicians] need to advertise, to let people know they are in the [music] world. [Organizing concerts for yourself and with a team] I think this is the best way for competitors to let people know they [are in the industry]." 
Alexander Chaushian:
"If you win a competition it doesn't make everything happen suddenly, you don't suddenly have 250 concerts a year."
5. The results of a competition ultimately do not define you or how your music career will turn out. Winning is not the most important thing; how you come out of and improve from a competition, as well as what you learn from it, is a win itself.
Boris Andrianov:
"The result is actually not the most important thing. It's good of course and the best way to be recognized, but if nothing happens you should keep on trying, doing everything you can. Otherwise there's no reason to become a musician if you're just doing it to win." 
Julian Lloyd Webber:
"Winning a competition is not everything. If you come second, third, fourth, fifth, it doesn't mean that you're not going to have a good career, you may well have a very good career." 
Now in its third season, the Classic Strings Competition is being held in Dubai this year. The Competition for Violin will run on May 10-23, 2022, while the Competition for Cello will be held from May 9-18, 2022 — both final rounds to be streamed here on The Violin Channel. 
Open to applicants of all nationalities younger than 35 years old, the competition consists of three rounds with the final round performed with the orchestra. A recent interview with the competition's president Konstantin Ishkhanov can be read here.