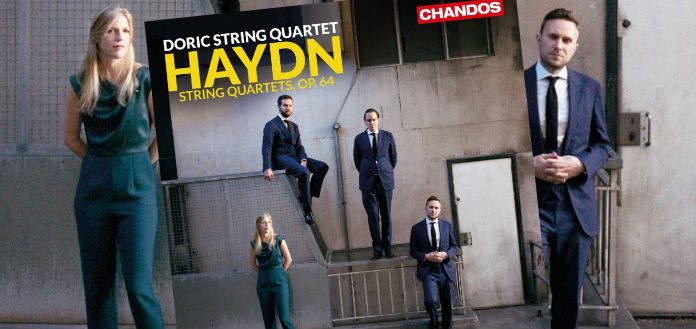 Chandos Records has this week announced the release of the British-based Doric String Quartet's new album: 'Haydn String Quartets No. 64'.
Volume 3 in the ensemble's longterm Haydn recording project, the double disc set contains all six masterful string quartet's from Franz Joseph Haydn's Op. 64 - Nos. 48/1, 49/2, 50/3, 51/4, 52/5 and 53/6.
"This disc is the next installment in our career-long dream to record the complete Haydn quartets …" Doric Quartet 1st violinist Alex Redington has told The Violin Channel.
"Haydn's music forms the backbone of our repertoire and this release is particularly exciting as it is our first playing on period-style classical bows … it was such a joy to be able to push our imagination for sounds and textures using these wonderful bows …" he has said.
"We really hope that listeners will share the joy and wonderment that we feel towards these works … and come away loving Haydn just a bit more than before."
Track previews available now on Amazon and iTunes: