Semi-Finalists Announced at Elmar Oliveira Competition - Inc VC Young Artist Sirena Huang
The 8 competitors advancing to the Semi-Final Stage II of the 2017 Elmar Oliveira International Violin Competition have been announced
The 8 competitors advancing to the Semi-Final Stage II of the 2017 Inaugural Elmar Oliveira International Violin Competition, in Boca Raton, USA have today been announced - including VC Young Artist Sirena Huang.
The 2017 Semi-Finalists are:
VC Young Artist Sirena Huang (22, United States)
Brian Kwan Yeung Choi (22, China)
Ari Isaacman-Beck (31, United States)
Alina Ming Kobialka (19, United States)
Quanshuai Li (25, China)
Elly Suh (27, United States/South Korea)
Chiharu Taki (29, Japan)
Hannah Tarley (25, United States)
Ari Isaacman-Beck, from the United States was awarded the 'Composer's Prize' for the best performance of the newly-commissioned set work 'Dialogues' by Thomas McKinley - in the Semi-Final Stage I.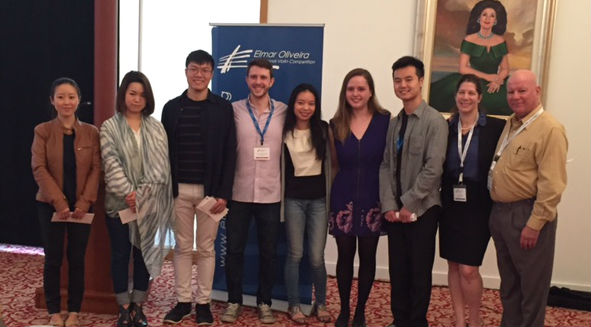 For the Semi-Final Stage II, each candidate will present the 1st movement from Mozart's 5th Violin Concerto in A Major - plus either the 1st movement from the Tchaikovsky or Sibelius Violin Concertos.
Open to candidates of any nationality, aged between 16 and 32, the 1st prize winner will receive US $30,000, significant career development, publicity and management support plus a number of important performance opportunities.
The 2017 jury will comprise: Daniel Heifetz (Jury Chair), Andrés Cárdenes, Charles Castleman, Alexander Gilman, Gudny Gudmundsdottir, Ilya Kaler and Vera Tsu Wei-ling.
To aid in transparency, competitors' jury scores for both the Semi-Final and Final Rounds will be released to the public.
The Violin Channel, as the competition's 2017 Official Media Partner, will be providing rolling coverage live from Boca Raton.
You won't miss a beat.
VC YOUNG ARTIST SIRENA HUANG | 2017 ELMAR OLIVEIRA INTERNATIONAL VIOLIN COMPETITION | SEMI-FINAL STAGE 1
BRIAN KWAN YEUNG CHOI | 2017 ELMAR OLIVEIRA INTERNATIONAL VIOLIN COMPETITION | SEMI-FINAL STAGE 1
ARI ISAACMAN-BECK | 2017 ELMAR OLIVEIRA INTERNATIONAL VIOLIN COMPETITION | SEMI-FINAL STAGE 1
ALINA MING KOBIALKA | 2017 ELMAR OLIVEIRA INTERNATIONAL VIOLIN COMPETITION | SEMI-FINAL STAGE 1
ELLY SUH | 2017 ELMAR OLIVEIRA INTERNATIONAL VIOLIN COMPETITION | SEMI-FINAL STAGE 1
CHIHARU TAKI | 2017 ELMAR OLIVEIRA INTERNATIONAL VIOLIN COMPETITION | SEMI-FINAL STAGE 1
HANNAH TARLEY | 2017 ELMAR OLIVEIRA INTERNATIONAL VIOLIN COMPETITION | SEMI-FINAL STAGE 1