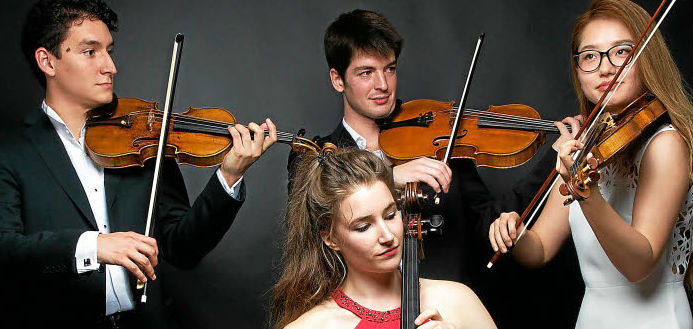 The 3 string quartets progressing to the final round of the 2018 International Mozart String Quartet Competition have today been announced – in Salzburg, Austria.
The 2018 Finalists are:
Quatuor Akos
Eliot Quartett
Quatuor Tchalik
Open to international string quartets, with the ensemble not exceeding 120 years in age total at the time of the start of the competition, the 1st prize winning group will receive €20,000.
The 2018 jury comprises: Lukas Hagen (Head), Mark Steinberg (Brentano Quartett violinist), Cibrán Sierra Vázquez, (Cuarteto Quiroga violinist), Jonathan Brown (Cuarteto Casals violist), Isabel Charisius (Alban Berg Quartett violist), Sally Pendlebury (Fitzwilliam Quartet cellist), and Enrico Bronzi (Trio di Parma cellist).
PICTURED: 2018 International Mozart String Quartet Competition Finalists, Quatuor Akos