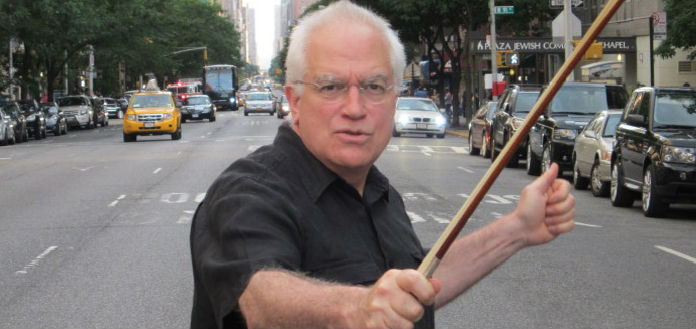 The Violin Channel recently caught up with The Juilliard School and Mannes College of Music cello pedagogue and new music advocate, Mr Fred Sherry.
In a VC-exclusive blog, Fred shares with us his fundamental dos and don'ts when commissioning a new work.
"Multiple choice question. A commission is:
a) scary. b) an adventure. c) good for your career. d) part of the job. e) a lot of work. f) great for your playing. g) a chance to free yourself from following other players' ideas about performance.
1. When searching for your composer, don't jump on the latest prizewinner. Commission him before he wins.
2. Make sure you know the composer's music so that you can say something intelligent when approaching him. Do not say, "Could you write me a piece just like the one you wrote for Ms. X? I really liked that one."
3. Try to make direct contact with your composer keeping the managers, publishers and music administrators out until you have developed a relationship with him. (Of course, some composers insist on having a representative to start the ball rolling.)  The dialogue will be different depending on the type of piece, i.e. ensemble, solo, concerto; and the occasion, if there is one, such as season opener, holiday, memorial, 20th anniversary of your group.
This conversation could happen:
You: I play in the _____ String Trio and we would like to commission you.
Composer: I would love to write for you, how about a piano quartet?
You: Well, uh, mmm.
Or--
Composer: I would love to write for you, what are the financial arrangements?
You: We're working on that.
Or--
Composer: I would love to write for you, but I have three pieces to finish before I write yours.
You: I will check with the group/conductor/ manager of the theater/ foundation executive.
4. Whoever hammers out your end of the contract should include, at least, the following items: due date, period of exclusivity, right of refusal for the first recording, copying costs, length (this does not have to be precise), and money (hopefully not your problem--traditionally the composer gets half up front and the other half on delivery of the score).
5. Once you have a rapport with the composer you can ask gently how the piece is going. Composers are thoughtful people and usually don't mind answering serious questions, although some like to be left alone and can show anger if there are too many inquiries.
6. When preparing for the premiere, it is good to invite the composer early on in the rehearsal process. You may have questions or you may have discovered mistakes or ambiguities, but always tread lightly!  If you wait until the day before the concert you won't have time to digest new ideas.
7. At the premiere, do not forget to invite the composer to take a bow; you might want to know where she is sitting rather than gesturing wildly to the whole audience. Perhaps she should bow before you do?
8. What happens if you don't like the piece? After struggling through the first performance, don't make up a lame excuse like "my mom/manager/girlfriend won't let me play it again." That won't work.
If the audience doesn't like the piece, that is not necessarily the composer's fault!
9. Take pleasure in the whole process, especially the search for your composer, and you will be rewarded. 
- Fred"
A student of Leonard Rose, Felix Galimir and Robert Mann, American cellist Fred Sherry currently serves coveted teaching positions on faculty at New York's Juilliard School, Manhattan School of Music and Mannes College | He has been the dedicatee of a large body of important contemporary works including cello concerti by Elliott Carter, Mario Davidovsky, Steven Mackey, David Rakowski, Somei Satoh, Charles Wuorinen and John Zorn - and solo and chamber works by Milton Babbitt, Derek Bermel, Jason Eckardt, Lukas Foss, Oliver Knussen, Peter Lieberson, Donald Martino and Toru Takemitsu