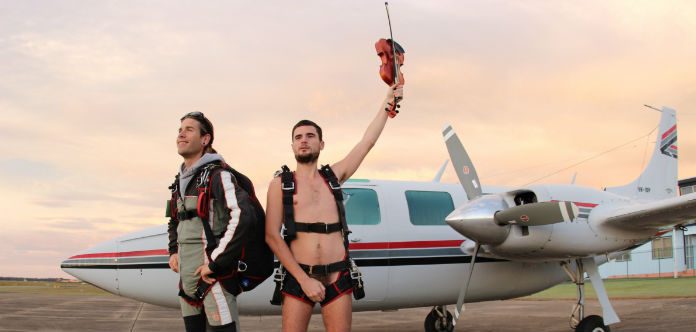 An Australian violinist has this week announced his upcoming Guinness World Record attempt to play the violin naked whilst skydiving from 15,000 feet - in an effort to raise funds and awareness for men's body image issues.
Former London-based violinist, Glen Donnelly will attempt the feat in Coffs Harbour, Australia on August 27th - his 30th birthday.
All funds raised from the world record attempt will be donated to three men's eating disorder and body image charities: 'The Butterfly Foundation', 'Nude Movement' and 'The Mankind Project'.
"At age 18 after one comment from a fellow musician about my tubby belly I started silently sucking it in 24/7 ... creating a mental and physical prison in my body that would lead to a breakdown in 2013 … " the violinist has said.
"It's time men stopped sucking it up … it's time men started letting it out … " he has said.
At this stage repertoire is still to be decided but Glen has said he will be tossing up between 'Happy Birthday', Beethoven's 5th Symphony and/or the evergreen 'Flight of the Bumblebee'.
The 29 year old has indicated he is preparing for the feat by taking monthly jumps to refine his harness rigging, audio and GoPro techniques - and also by practicing the violin in the car with the windows down.
"As for being naked at minus ten degrees … I have no idea how to prepare for that," he has said.
To date, Glen has raised $700 of his $15,000 AUD target.
If you can assist, please visit: www.gofundme.com/birthdaydive