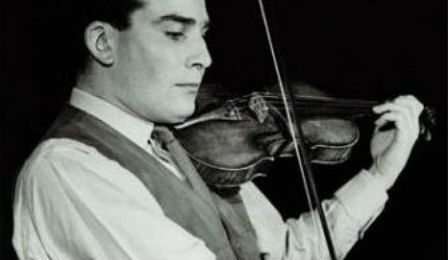 This week The Violin Channel explores the recordings of thwarted French violin virtuoso, Christian Ferras.
A protégé of George Enescu, and once a favoured soloist of conductor Herbert von Karajan, Christian Ferras' illustrious, yet intermittent career, was tragically marred by his life-long struggle with alcoholism and depression.
[video_lightbox_youtube video_id="x6Kq0qMMpgU" width="590" height="385" auto_thumb="1"]
CHRISTIAN FERRAS | SIBELIUS VIOLIN CONCERTO | 1ST MVT | ZUBIN MEHTA | ORCHESTRA NATIONAL DE ORTF

He tragically took his own life in 1982, aged just 49 - though fortunately bequeathed the world a brilliant and treasured recording legacy.
[video_lightbox_youtube video_id="qYR9ychIPJc" width="590" height="385" auto_thumb="1"]
CHRISTIAN FERRAS | SIBELIUS VIOLIN CONCERTO | 2ND MVT | ZUBIN MEHTA  | ORCHESTRE NATIONAL DE ORTF
[video_lightbox_youtube video_id="ZX-kUgjCAKo" width="590" height="385" auto_thumb="1"]
CHRISTIAN FERRAS | SIBELIUS VIOLIN CONCERTO | 3RD MVT | ZUBIN MEHTA  | ORCHESTRE NATIONAL DE ORTF
[video_lightbox_youtube video_id="o-8cPNUPmI8" width="590" height="385" auto_thumb="1"]
CHRISTIAN FERRAS & GUY BOURASSA | RAVEL | TZIGANE | 1961
[video_lightbox_youtube video_id="Erjs3zk33bE" width="590" height="385" auto_thumb="1"]
CHRISTIAN FERRAS & GUY BOURASSA | DEBUSSY VIOLIN SONATA | 1ST MVT | 1961
[video_lightbox_youtube video_id="yxp3fuvkwCY" width="590" height="385" auto_thumb="1"]
CHRISTIAN FERRAS | BACH | SOLO PARTITA NO. 3 IN E MAJOR | PRELUDE | 1958
[video_lightbox_youtube video_id="Z6d1tlVfzXQ" width="590" height="385" auto_thumb="1"]
CHRISTIAN FERRAS | TCHAIKOVSKY | VIOLIN CONCERTO | HERBERT VON KARAJAN | BERLIN PHILHARMONIKER
[video_lightbox_youtube video_id="-RNZ49gIzn0" width="590" height="385" auto_thumb="1"]
CHRISTIAN FERRAS | MENDELSSOHN | VIOLIN CONCERTO | 2ND MVT | 1963 | ALEXANDER BROTT | ORCHESTRA DE RADIO-CANADA
[video_lightbox_youtube video_id="cLiTJwuS3kE" width="590" height="385" auto_thumb="1"]
CHRISTIAN FERRAS | MENDELSSOHN | VIOLIN CONCERTO | 3RD MVT | 1963 | ALEXANDER BROTT | ORCHESTRA DE RADIO-CANADA
[video_lightbox_youtube video_id="za7dYSSfrCM" width="590" height="385" auto_thumb="1"]
CHRISTIAN FERRAS | CHAUSSON | POEME |  G. SEBASTIAN | ORCHESTRE NATIONAL DEL BELGIQUE
[video_lightbox_youtube video_id="mngxrChcFhA" width="590" height="385" auto_thumb="1"]
CHRISTIAN FERRAS & ROBERT WEISZ | STRAVINSKY | CHANSON RUSSE | 1973
[video_lightbox_youtube video_id="uX7BevmtNXs" width="590" height="385" auto_thumb="1"]
CHRISTIAN FERRAS | BRAHMS | VIOLIN CONCERTO |  SCHURICHT | VIENNA PHILHARMONIC
[video_lightbox_youtube video_id="NBpHdzZyQAc" width="590" height="385" auto_thumb="1"]
CHRISTIAN FERRAS | FAURE | BERCEUSE