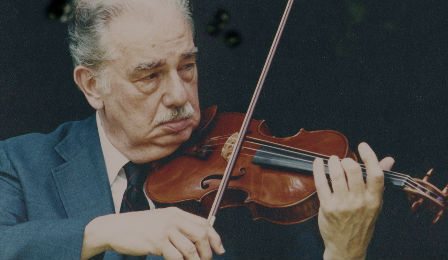 This week The Violin Channel explores the recordings of American violin virtuoso and conductor, Oscar Shumsky.
A student of Leopold Auer and Efrem Zimbalist, Mr Shumsky was widely respected amongst his contemporaries as one of the finest violinists of his time, yet never sought the recognition as a soloist – instead preferring to concentrate on teaching, chamber music and conducting.
[video_lightbox_youtube video_id="OwXCaimIkHM" width="590" height="385" auto_thumb="1" ]
OSCAR SHUMSKY & GLENN GOULD | STRAUSS | VIOLIN SONATA IN E FLAT MAJOR | 1ST MVT | 1962
He served on faculty at the Curtis Institute, Peabody Conservatory, Yale University and the Juilliard School - his famed students including Steven Staryk, Elliot Chapo, Ida Kavafian, Eugene Drucker and Philip Setzer.
Mr Shumsky passed away in 2000 - aged 83.
For much for his career he concertized on the 1715 'Ex-Pierre Rode' Stradivarius.
[video_lightbox_youtube video_id="tAoESVxR_dE" width="590" height="385" auto_thumb="1" ]
OSCAR SHUMSKY | BRAHMS VIOLIN CONCERTO | 1ST MVT | JANSON | BBC WELSH SYMPHONY | 1987
[video_lightbox_youtube video_id="bebi1VHrGMA" width="590" height="385" auto_thumb="1" ]
OSCAR SHUMSKY & MILTON KAYE | TARTINI | 'DEVIL'S TRILL' SONATA (ARR. KREISLER)
[video_lightbox_youtube video_id="Lv5JryC8bu4" width="590" height="385" auto_thumb="1" ]
OSCAR SHUMSKY | YSAYE | SOLO SONATA NO. 1 IN G MINOR
[video_lightbox_youtube video_id="f4mosCLNLtw" width="590" height="385" auto_thumb="1" ]
OSCAR SHUMSKY | BRAHMS VIOLIN CONCERTO | 3RD MVT | JASSON | BBC WELSH SYMPHONY | 1987
[video_lightbox_youtube video_id="4roZznLW1P0" width="590" height="385" auto_thumb="1" ]
OSCAR SHUMSKY & MILTON | CORELLI | LA FOLIA SONATA (ARR. KREISLER)