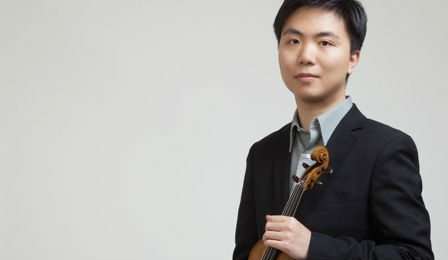 26 year old Chinese violin virtuoso Jiafeng Chen is firmly establishing himself as one of the new generation's most gifted young concert soloists.
A student of Jan Repko, Cho-Liang Lin and Ronald Copes at London's Royal College of Music and the Juilliard School, Jiafeng is a former prize winner at the Sibelius, Wieniawski, Indianapolis, Menuhin and Queen Elisabeth International Violin Competitions.
[video_lightbox_youtube video_id="1yPu8t6Gz48" width="590" height="385" auto_thumb="1"]Jiafeng Chen | Paganini | La Campanella | 2009 Queen Elisabeth International Violin Competition
His recent solo engagements include performances with the Shanghai Symphony Orchestra, Hallé Orchestra, Finnish Radio Symphony Orchestra, Helsinki Philharmonic Orchestra, the Philharmonia Orchestra and the National Orchestra of Belgium.
He currently performs on a 1752 Nicolo Gagliano violin – on generous loan from a syndicate of private investors.
[video_lightbox_youtube video_id="Sj6hGcBkC7U" width="590" height="385" auto_thumb="1"]Jiafeng Chen | Ysaye | Solo Sonata No. 6 | 2009 Queen Elisabeth International Violin Competition
[video_lightbox_youtube video_id="pl4lu6fgyWg" width="590" height="385" auto_thumb="1"]Jiafeng Chen | Tchaikovsky Violin Concerto | 1st Mvt | 2005 Sibelius International Violin Competition | Aged 17
[video_lightbox_youtube video_id="EBn9eA_nmRE" width="590" height="385" auto_thumb="1"]Jiafeng Chen | Mozart | Violin Concerto No. 1 in B Flat Major | 3rd Mvt | Paul Goodwin | Orchestre Royal de Chambre de Wallonie
[video_lightbox_youtube video_id="RFOBUdu21nU" width="590" height="385" auto_thumb="1"]Jiafeng Chen | Tchaikovsky Violin Concerto | 3rd Mvt | 2009 Queen Elisabeth International Competition
[video_lightbox_youtube video_id="lUz9Xd6-iI8" width="590" height="385" auto_thumb="1"]Jiafeng Chen | Prokofiev | Five Melodies | 2009 Queen Elisabeth International Violin Competition
Instrument: 1751 Nicolo Gagliano
Bow: Lin Chinese Bow
Shoulder Rest: Kun
Teachers: Ronald Copes, Cho-Liang Lin, Jan Repko, Lei Fang
Schools: Royal College of Music, Juilliard School