Kentucky's Lexington Philharmonic Names First Female Conductor 
French conductor Mélisse Brunet becomes the first woman to assume the music director position of the orchestra in its 61-year history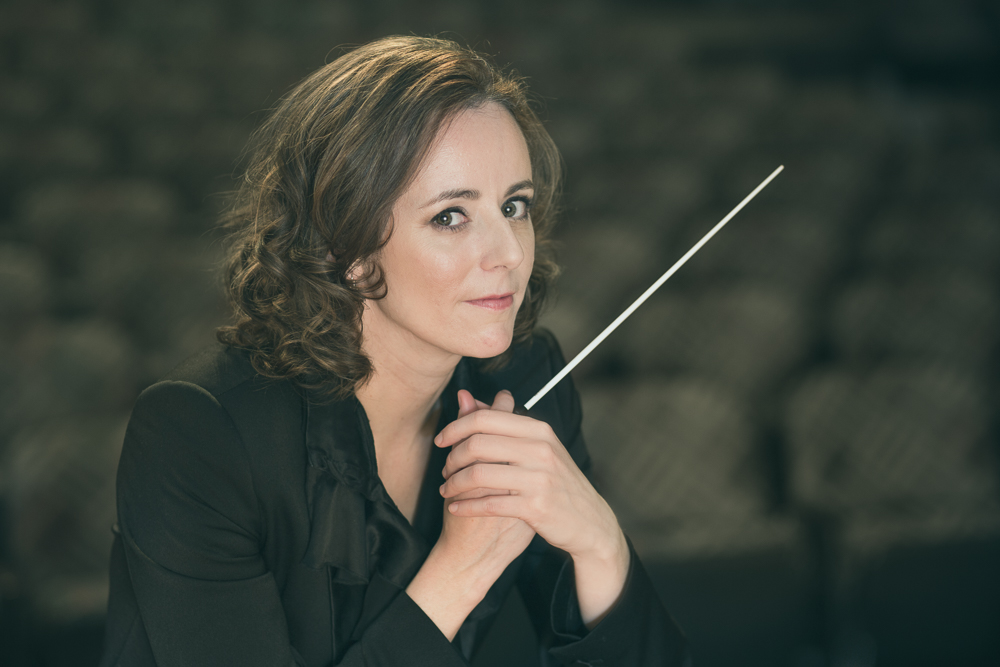 (Photo credit: Toko Shiiki)
Mélisse Brunet joins the Lexington Philharmonic Orchestra (LexPhil) as music director after the orchestra's three-year search to fill the role — which was delayed due to the COVID-19 pandemic.
Brunet will begin her new role in the 2022/23 concert season with an initial contract of five years. She is LexPhil's fifth music director since its inception in 1961 and the first woman in the role. She succeeds Scott Terrell, who led the orchestra between 2009 and 2019.
Initially only engaged as a LexPhil guest conductor for a May 2022 program, Brunet was deemed a music director candidate by the orchestra's Search Committee after a positive response from LexPhil musicians and audience members from her May performances. 
Other finalists considered for the position were Thomas Heuser, Akiko Fujimoto, Kelly Corcoran, and Julia Tai, who were judged on artistry and artistic vision, rapport with the musicians and staff, plus their commitment to relationship building and creating meaningful experiences.
Meet Mélisse! 🎶

LexPhil is thrilled to announce the appointment of Mélisse Brunet as our next Music Director who will assume the role during the 22-23 Season. We are so excited to welcome Mélisse to the Lexington Philharmonic! Click below for more!

🌐 https://t.co/dBxi4ZmNA1 pic.twitter.com/HUqrqLCqa0

— Lexington Philharmonic (@lexingtonphil) July 11, 2022
A native of Paris, France, Brunet currently lives in Iowa, and serves as music director of the Northeastern Pennsylvania Philharmonic, where she will conduct her third and final season with them this year. 
A protégée of Pierre Boulez, she has participated in the highly selective 2022 International Competition La Maestra and 2018 Bruno Walter National Conductor Preview. Additionally, she is the first woman in a century to hold the Director of Orchestral Studies position at the University of Iowa School of Music. 
Brunet began her music studies on the cello, and also learned to play the trumpet, French horn, and piano. She is a graduate of the Paris Conservatory, Université la Sorbonne, Cleveland Institute of Music, and the University of Michigan, where she holds a doctorate in conducting. 
According to The Lexington Herald Leader, Brunet's appointment at LexPhil hopes to inspire orchestras to raise women up to leadership roles, as the percentage of women directing orchestras at all levels in the U.S. is around 10%. 
"I see that I'm opening doors still, in communities," said Brunet, who has often experienced being the first, only, or one of few women in leadership roles. "And it's my hope, also, that I can allow other younger women or people who are coming from more diverse backgrounds to realize that, 'OK, I can do that job, too.' I hope that it's going to be very inspiring in Lexington as well," she expressed.
Alongside Brunet's position with LexPhil, its top leadership posts are also being held by women including Search Committee Chair and Philharmonic Board President Carol McLeod and Executive Director Allison Kaiser.
"Mélisse is an inspiring musician with immense talent and artistry, whose passion for music and life shone clearly both on and off the podium during her time in Lexington," said Kaiser in the press release. "Our search for a new Music Director of the Lexington Philharmonic was a long journey, and we could not be more excited about this thrilling conclusion."
"I am humbled and honored to accept the position of Music Director of the Lexington Philharmonic," Brunet added. "From the first rehearsal for the May concert until the performance, I felt an immediate connection between the orchestra and myself. How everything clicked and aligned was fortuitous, and so incredibly exciting. I can't wait to work with the musicians and staff of the Lexington Philharmonic to share our passion for music to make a positive difference in our community."