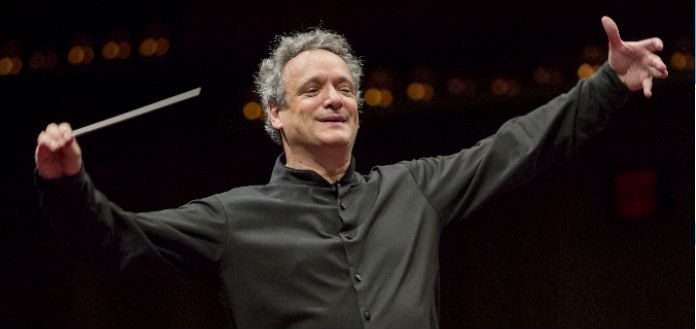 Louis Langrée will not seek to renew his contract with the Cincinnati Symphony Orchestra (CSO) beyond the end of the 2023-2024 season — which will be his 11th as the CSO's music director.
Now known for adventurous programming, including a Pelléas Trilogy and Beethoven's Akademie 1808, he will have commissioned 36 new orchestral works for the ensemble by the end of the upcoming season.
Under his leadership, the CSO has received two Grammy Award nominations for Best Orchestral Performance. Langrée also presided over the orchestra's return to Music Hall following a major renovation and return to performing amid the COVID-19 pandemic — through both live-streamed and in-person concerts.
"This hasn't been an easy decision to make because this Orchestra and the Cincinnati community have such a special place in my heart," Langrée wrote in the CSO press release announcing his departure as music director. "But to keep the Orchestra fresh, relevant and vital, new leadership with other perspectives is necessary. I am deeply committed to making this announcement now to ensure a smooth and harmonious transition to my successor."
Although Langrée will no longer serve as music director after the 2023-2024 season, he wrote in the CSO press release that he hopes to return to Cincinnati often to guest conduct and "reunite with musicians and audiences."
Langrée has also guest conducted the Berlin Philharmonic, Orchestre de Paris, Vienna Philharmonic, London Philharmonic, Budapest Festival Orchestra, and Philadelphia Orchestra, among other ensembles.
He previously served as music director of the Orchestre de Picardie, Opéra National de Lyon, and Orchestre Philharmonique Royal de Liège, as well as chief conductor of the Camerata Salzburg. During the summer, he is music director of Lincoln Center's Mostly Mozart Festival, a position he has held since 1966.