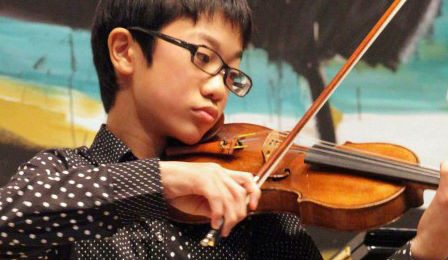 The Menuhin Competition has announced the receipt of a record number of applications for their 2016 competition - to be held at London's Royal Academy of Music from April 7-17th.
Widely recognised as the world's leading competition for violinists under the age of 22, previous 1st prize winners include VC 'Artists' Ray Chen, Chad Hoopes, Hrachya Avanesyan, So-Young Yoon, Xiang Yu and Stephen Waarts – and VC 'Rising Stars' Kevin Zhu, Rennosuke Fukuda and Kerson Leong.
In total 307 entries from young violinists from more than 40 countries were received - bettering the previous record of 275 applicants in 2014.
66% of all applicants are female
28% of all applications received are from the United States
The youngest entrant is just 9 years old
82% of applicants indicated that their parents do not play the violin
28% indicated they do not own their own violin
More than 50% of applicants indicated they commenced violin lessons  before the age of 5
The 2016 jury will comprise: Chairwoman Pamela Frank, former laureates Julia Fischer, VC 'Artist' Ray Chen, Tasmin Little, Ning Feng and Joji Hattori – and pianist Jermey Menuhin, violinist Dong-Suk Kang and Verbier Festival Director, Martin Engstroem.
The 44 2016 competitors will be announced later this month.
As the competition's official 2016 media partner, The Violin Channel will be providing exclusive rolling-coverage – live from all venues. You won't miss a beat!
PICTURED: 2014 Junior Menuhin Competition 1st Prize Winner, VC 'Rising Star' Rennosuke Fukuda from Japan