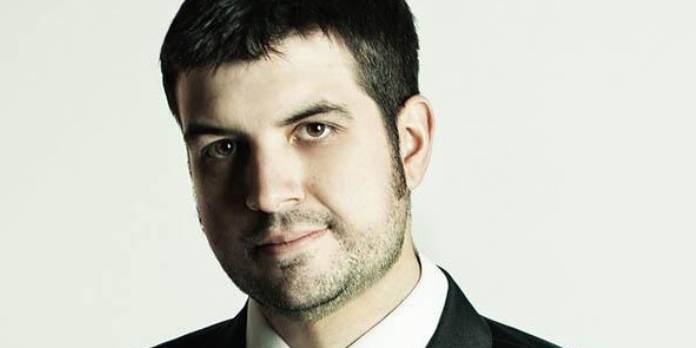 Written in 2011, "Eternal Breath" features all eight string players.
The Violin Channel recently interviewed composer Dan Visconti to discuss the piece.
"'Eternal Breath' was commissioned by Bill and Margie Freivogel to celebrate their 40th wedding anniversary, featuring two string quartets which included their children — a real family affair! The piece itself is based on a simple 'breathing' phrase, which becomes longer and more elaborate as the expanding melody is passed around the entire ensemble. The idea of the breath of life passed from one generation to the next, as well as the expansion of the family through marriage, inspired the development of the initial, chant-like material.
"I've been fortunate to have worked with the Jupiter Quartet previously, so it was via my own close connections with these musicians, and the process of creating a new work together that we perhaps felt an opportunity for an even more "bespoke" project.
"This was a very special project for me in that it seemed to connect to the way music was commissioned in the past: always as the centerpiece of ceremony and celebration, playing a central role in both merriment and deep contemplation through association with major rituals like weddings, birthdays, and the like. It's definitely my most personal commission, and I've since tried to bring that same spirit of intimate collaboration around an opportunity (or challenge) to each new work.
"The other pieces on this recording are very sharply-defined, whereas Eternal Breath comes from a more timeless place, with influences from Carnatic and Hindustani traditions as well as those from the canon of classical chamber music. Much of the interaction or counterpoint in this work emerges simply from echoes — one instrument shadowing another, or other instruments sustaining each note of another's solo line. It's maybe best experienced as a kind of musical meditation, and listeners might feel their own breathing patterns drawn to the eternal, oceanic ebb and flow upon which the entire composition briefly hangs in the air before evaporating like a whiff of incense.
DAN VISCONTI | "ETERNAL BREATH" | JUPITER STRING QUARTET & JASPER STRING QUARTET | 2021