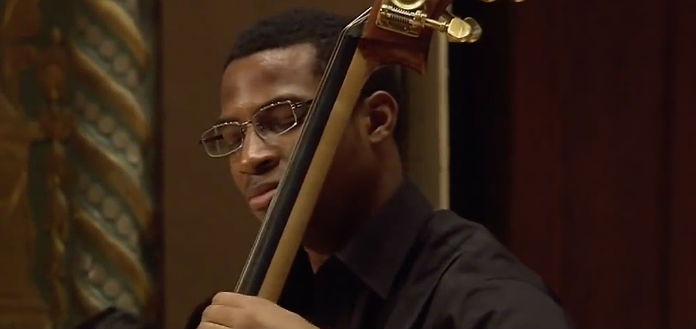 Double Bassist, VC Young Artist Xavier Foley and violinist Ruben Rengel performing a premiere performance of Xavier Foley's 'For Justice and Peace' Double Concerto for Violin & Double Bass.
Jointly commissioned by the Sphinx Organization, Carnegie Hall and the New World Symphony, the performance was recorded live on the October 1st, 2019, at The University of North Carolina School of Arts - with the Sphinx Virtuoso.
"I was approached by the Sphinx Organization to create a double concerto for violin, double bass and string orchestra that marks the 400 years of slavery ever since the arrival of the slave ship 'White Lion' (1619) in Jamestown, Virginia ..." Xavier has this week told The Violin Channel.
"The finished work called 'For Justice and Peace' ended up featuring both a gavel and a chorus - the players in the string orchestra would sing the vocal parts in addition to playing their instruments ..." he has said.
"Both the gavel and the chorus represent past experiences of the first African slaves in Jamestown. The gavel in the work represents the multiple occasions where African Americans attempted to seek justice in a courtroom that, over time, became less of a place of fair judgement for the person of color. The chorus in the concerto was used to represent the moments where African slaves would sing together in an attempt to evoke feelings of comfort and joy during a time where a majority of privileges and basic human rights were revoked on the basis of skin color. The lyrics were personally chosen to reflect the slaves plea for equity and justice..." Xavier has told the Violin Channel
"I can only hope that the performance of the work is an unforgettable experience for the listener."
VC YOUNG ARTIST XAVIER FOLEY AND RUBEN RENGEL| | XAVIER FOLEY | 'FOR JUSTICE AND PEACE' DOUBLE CONCERTO FOR VIOLIN & DOUBLE BASS | SPHINX VIRTUOSI  | 2019