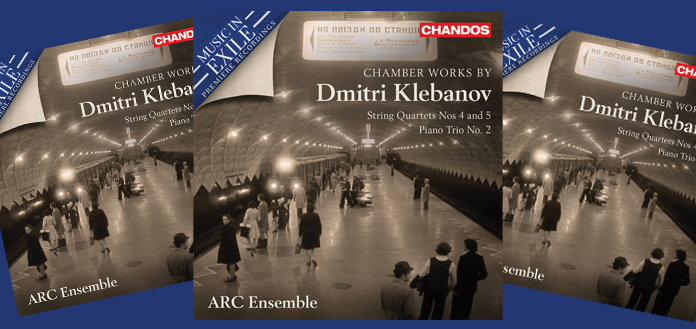 Released on September 24 on the Chandos label, the recording is the fifth in the group's "Music in Exile" series and represents the first commercial release of these lesser-known Klebanov pieces.
The disc features ARC Ensemble members violinists Erika Raum and Marie Bérard, violist Steven Dann, cellist Thomas Wiebe, and pianist Kevin Ahfat.
Nominated for three Grammys and Germany's OPUS Klassik awards, the Canadian chamber group was drawn from senior faculty and guest artists from The Royal Conservatory's Glenn Gould School.
They specialize in recovering and recording music suppressed or marginalized under the 20th century's repressive political regimes.
Their newest CD "Chamber Works by Dmitri Klebanov" aims to gain recognition for a composer relegated to obscurity.
A casualty of Soviet-era cultural suppression and anti-Semitism, Jewish-Ukrainian composer Dmitri Klebanov lived from 1907-1986. He is among the many musicians whose works are largely forgotten and rarely performed.
During his career, Klebanov understood that his career and survival depended on producing works that glorified Soviet accomplishments. However, he managed to produce compositions that reveal "a boundless imagination, a spirited vivacity, and a melodic confidence, all of which justify his inclusion in the classical canon," the ensemble said in the press release.
"When we're choosing a composer to record, we're hoping to find those pulse-quickening moments that engage, affect and sometimes overwhelm the listener," says The ARC Ensemble Artistic Director Simon Wynberg.
"In Klebanov's work we found that excitement, emotional appeal and an inspiring honesty." Klebanov composed nine symphonies, two concertos each for violin and cello, chamber pieces for violin and piano, several operas and ballets, some one hundred songs, and nearly two dozen film scores.
The recording is dedicated to the memory of Klebanov's son Yuri, who provided scans of manuscript scores and filled in the blanks regarding his father's family and career.
"Yuri played an important role in the preparation of this recording," says Wynberg, "He even emailed me scans of New Year and birthday greetings that Dmitri Shostakovich had sent to his father, and he recalled the two composers meeting at an Armenian retreat, where the guests included Mstislav Rostropovich, Galina Vishnevskaya, Benjamin Britten, and Peter Pears. It came as a huge shock when Yuri died of COVID in Moscow on March 28, 2021."
"It's a paradox that in many ways we know less about 20th century than we do about the 19th and 18th," Wynberg says. "For me, there is a moral obligation associated with the exploration of music suppressed for no reason other than a composer's race or political beliefs."
You can listen to the album, here.
Excerpts of the CD can be watched below: