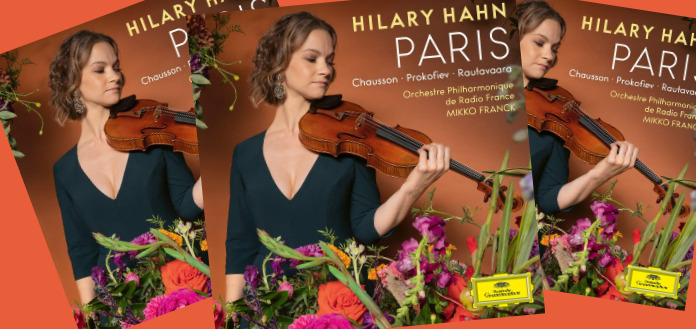 Deutsche Grammophon announced the release of violinist Hilary Hahn's new album entitled "Paris."
Recorded with conductor Mikko Franck and the Orchestre Philharmonique de Radio France, the disc features the world premiere recording of Einojuhani Rautavaara's "Deux Sérénades," No. 1 "Pour Mon Amour" and No. 2 "Pour La Vie," Chausson's Poème for Violin & Orchestra Op. 25, and Prokofiev's Violin Concerto No. 1 in D major Op. 19.
"'Paris' is about expression, it's about emotion, it's about feeling connected to a city and a cultural intersection, in a way that's inspiring for the player and the listener," Hilary told The Violin Channel.
"It has Parisian threads all the way through it, but it's also a big reference to the arc of my career. I've been playing in Paris since I was a teenager. Almost every time I've played there with an orchestra, it's been with the Orchestre Philharmonique de Radio France.
"For Mikko and I, it was really crucial to have the Rautavaara piece recorded so as to reach beyond the French public — and to make sure that it was heard by as many people as possible for as long as possible."
The Serenades are the last pieces that the Finnish composer wrote. He had been talking with Hilary and Mikko about writing a piece for them, and the manuscript was uncovered after the composer's death in 2016. You can read more about this project in our interview with Hilary Hahn.