OUT NOW | William Grant Still's Music for Violin and Orchestra
Released on Naxos, the album features violinist Zina Schiff, conductor Avlana Eisenberg, and the Royal Scottish National Orchestra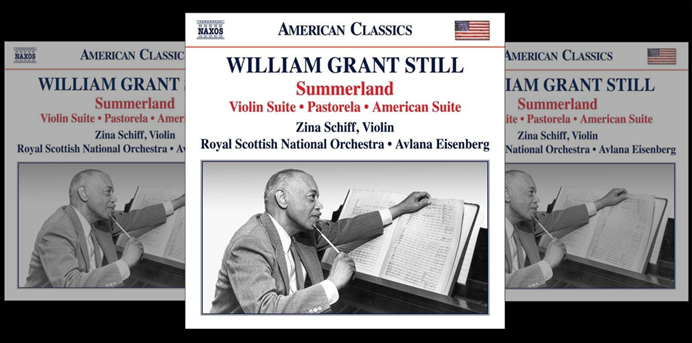 Born in 1895, William Grant Still was a pioneer composer and is remembered as the "Dean of Afro-American Composers." Still composed nearly 200 works including symphonies, ballets, operas, choral works, art songs, and chamber music. 
The new "American Classics" album includes world premiere orchestral versions of Still's Summerland, Violin Suite, Pastorela, American Suite, Threnody, Serenade, Fanfare for the 99th Fighter Squadron, Can't You Line 'Em, and Quit Dat Fool'nish. 
Written between 1918 and 1965, these works were based on a range of topics such as folk ballads and idioms, life reflections, WWII, artworks, as well as dedications to friends and to composers such as Jean Sibelius. 
Still was the first African American to conduct a major American symphony orchestra, have a symphony performed by a leading orchestra, an opera performed by a major opera company, and have an opera performed on national television.
With the aim of his music to "serve a purpose larger than mere music," Still maintained that: "If it will help in some way to bring about better interracial understanding in America and in other countries, then I will feel that the work is justified."
The album release comes during Black Music Month, also known as African-American Music Appreciation Month. The United States formally started observing this celebration in 2000, according to Billboard.
"As a Black composer, my grandfather worked so hard to get his works recorded, but by the time he passed away very few of his works had been recorded by any orchestra," said PBS and NPR broadcaster, and William Grant Still's granddaughter, Celeste Headlee of the album. "How fulfilling and wonderful it is to have an entire album of his pieces never recorded before, all beautifully and feelingly played."
A video reflection by Headlee on her grandfather can be watched here.
To listen to and purchase the album, click here.