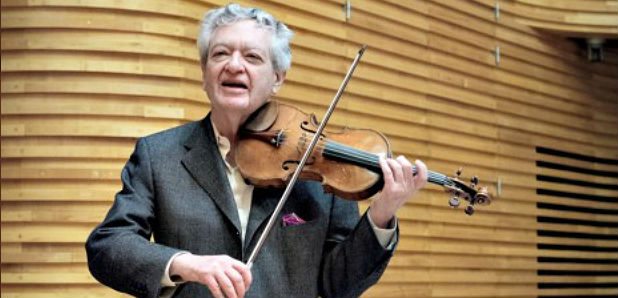 The Violin Channel recently caught up with the Juilliard School and Mannes School of Music esteemed pedagogue, Lewis Kaplan.
In a VC-exclusive blog, Mr. Kaplan talks us through his latest passion - a newly-established Bach-oriented music festival in Portland, Maine.
"At the end of August 2014 I stepped aside as Director of the Bowdoin International Music Festival. It had been 50 years since I first went to Maine and co-founded what was to become an internationally known summer destination, Bowdoin. At age 80, perhaps a bit crazy, I wanted another mountain to climb. 
As with thousands of others, Bach has been an obsession, a religion, a destination for me. I had been playing and discussing the greatness of the Bach Chaconne for decades at conservatories and festivals around the world. I had directed a highly successful Bach Festival in New York 16 years earlier. I thought where could a Bach Festival take root? Where would people want to take a proprietary interest in a new venture? Portland, Maine seemed to me to be an ideal location. It is a harbor city on Casco Bay with a proud heritage, a wonderful place for tourists, still close enough to the major cities in the northeast, a good airport, and yes, great restaurants. I sounded out some friends in Portland and New York, they got excited. It was all the assurance I needed.
I phoned Emily Isaacson, the Director of a local chorus in Brunswick. I said, "Emily, can you find a church or two, near the sea, intimate, where we can give people the feeling we are playing Bach just for them?" Emily is a mover, within two weeks she phoned me and said, "I have two churches I want you to look at." They were perfect, one in Falmouth on the outskirts of Portland, St. Mary's, handsome, in the woods, the ocean nearby. The second, St. Luke's, in the center of Portland, a large church but with a chapel in the rear, perfect for music in the round. "Emily," I said, "find out about availability and make the arrangements." She did. We were on.
Next I contacted some friends - great performers, who also shared my love of Bach. Their reaction was fantastic. Many changed plans to participate in the inaugural Portland Bach Festival, they shared my joy. One more thing, festivals are expensive. I phoned another set of friends. In a month we had the money we needed.
June 19 thru 24, 2016, concerti, cantatas, solo works. No, I'm not dreaming.
www.portlandbachfestival.org
-Lewis"