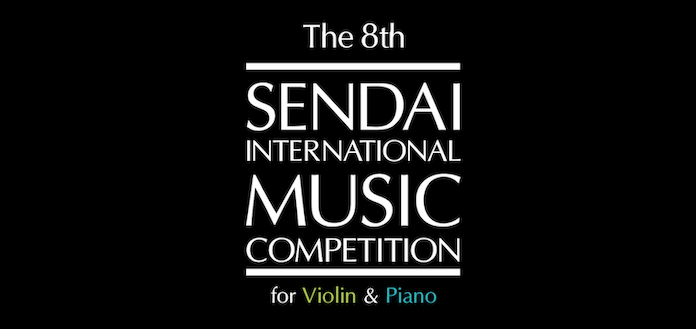 Open to violinists born on or after January 1st, 1992, the first prize winner will receive USD $28,850. 
Presented by the Sendai International Music Competition Organizing Committee, City of Sendai, and Sendai Cultural Foundation, previous first prize winners include Alena Baeva, Clara Jumi Kang, and VC Artists Richard Lin and Yoojin Jang.
The competing contestants include:
Julia Angelov (USA / Japan / Bulgaria)
Baek Chi-hyun (South Korea)
Yefgenis Sepovekis (Latvia)
James Chen (Australia)
Chen Yu Hao (Taiwan)
Cho Seong Min (Korea)
Don Linyu (China)
Viacheslav Ermolaev (Russia)
Kaori Furusawa (Japan)
Dennis Gasanov (Russia)
Janis Grisaw (Luxembourg)
Hong Sung Nan (Korea)
Yuki Ishihara (Japan)
Miley Ito (USA / Japan)
Chin Yeyoung Jenny (South Korea)
Kang Nahe (Korea)
Kaspshack Mai Aya Alexandra (Japan / Germany / Poland)
Hayato Kawai (Japan)
Karen Kido (Japan)
Kim Shijun (South Korea)
Kazu Tachibana Miyu (Japan)
Alice Hekyo Yi (Canada)
Lee Yu Jin (Korea)
Ma Tianyou (China)
Ina Matsuoka (Japan)
Emma Mainlenken (Canada / Germany)
George Moroz (Ukraine)
Mizuki Nakajima (Japan)
Naoko Nakajima (USA / Japan)
Yukino Nakamura (Japan)
Rina Nakano (Japan)
Yoshie Okura (Japan)
Audrey Park (USA)
Tami Pohyora (Finland / Japan)
Andrew Samara Sekara (UK)
May woman yang (Japan)
Mio Sasaki (Japan)
Tomodake Seki (Japan)
Akira Shimakata (Japan)
Koshiro Takeuchi (Japan)
Christine Wu (USA)
Maki Yamauchi (Japan)
Yoshida Minami (Japan)
The 2022 jury will comprise Yuzuko Horigome (Chairman), Masafumi Hori, Boris Belkin, Gregory Ahss, Olivier Charlier, Yuki Manuela Janke, Masao Kawasaki, Young-Uck Kim, Gidon Kremer, Cho-Liang Lin, Joel Smirnoff, and Yasushi Toyoshima.
All rounds of this year's competition will be streamed live on The Violin Channel. You won't miss a beat.