Candidates Announced for Sibelius Competition – Including 7 VC 'Young Artists'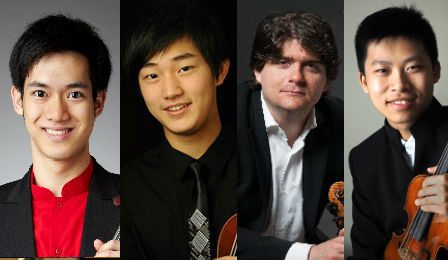 The 45 candidates have been announced for the 2015 Sibelius International Violin Competition, to be held in Helsinki, Finland from November 23rd to December 3rd, 2015 - including 7 VC 'Young Artists'.
This year's competitors are:
VC 'Young Artist' Zeyu Victor Li (China)
VC 'Young Artist' Richard Lin (Taiwan/United States)
VC 'Young Artist' Fedor Rudin (Russia/France)
VC 'Young Artist' Sarah Christian (Germany)
VC 'Young Artist' Kerson Leong (Canada)
VC 'Young Artist' Emmanuel Tjeknavorian (Austria)
VC 'Young Artist' Bomsori Kim (South Korea)
Naoka Aoki (Japan)
Wonhee Bae (South Korea)
Hannah Soojin Cho (South Korea/United States)
Sara Etelavuori (Finland)
Marina Grauman (Russia/Germany)
Anna Gockel (France)
Yoo Na Ha (South Korea)
Esther Hwang (Canada)
Mayumi Kanagawa (Japan/United States)
Jeein Kim (South Korea)
Da Kyung Kwak (South Korea)
Stephan Lavrov (Poland)
Christel Lee (Germany)
Tikhon Lukiyanenko (Russia)
Kyung Ji Min (South Korea)
Rustem Monasypov (Switzerland)
Yasuka Morizono (Japan)
Katerina Nazarova (Australia)
Seiji Okamoto (Japan)
Taejun Park (South Korea)
Pekko Pulakka (Finland)
Anna Savkina (Russia)
Lev Solodovnikov (Russia)
Friederike Starkloff (Germany)
Elly Suh (South Korea/United States)
Ryosuke Suho (Japan)
Mai Suzuki (Japan)
Elena Tarosyan (Russia)
Stephen Tavani (United States)
Diana Tishchenko (Ukraine)
Kasmir Uusitura (Finland)
Juho Valtonen (Finland)
Xiao Wang (China)
Jungyoon Yang (South Korea)
Minami Yoshida (Japan)
Laura Zarina (Germany)
Eva Zavaro (France)
Nancy Zhou (United States)
The 1st prize winner will receive €25,000 (US $28,000) and a number of important international engagements – including a performance of the Sibelius Concerto with the Finnish Radio Symphony Orchestra at the 'Sibelius 150 Birthday Jubilee Gala Concert' in Hameenlinna, Finland.
This year's jury comprises: Chairman Veli-Matti Puumala, Pierre Amoyal, Serguei Azizian, Sigrun Edvaldsdottir, Pekka Kauppinen, Sung-Ju Lee, Cho-Liang Lin, Gerhard Schulz and Krzysztof Wegrzyn.
Previous 1st prize winners include Oleg Kagan, Liana Isakadze, Pavel Kogan, Yuval Yaron, Viktoria Mullova, Ilja Kaler, Leonidas Kavakos– and VC 'Artists' Sergei Khachatryan and Nikita Boriso-Glebsky.
The Violin Channel, as this year's official competition media partner will be providing live streaming coverage direct from all venues. You won't miss a beat.
PICTURED: 2014 Sibelius International Violin Competition Competitors, VC 'Young Artists' Richard Lin, Zeyu Victor Li, Fedor Rudin and Kerson Leong.