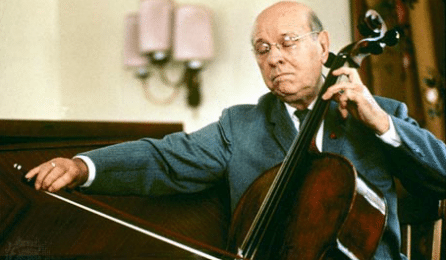 Spanish cello virtuoso Pablo Casals was born on this day in 1876 – 139 years ago.
Maestro Casals is remembered as one of the finest cellists of all time - particularly noted in history for his 1936-1939 recordings of the Bach Cello Suites.
He shares the same date of birth with viola virtuoso Lionel Tertis.
[video_lightbox_youtube video_id="KX1YtvFZOj0" width="590" height="385" auto_thumb="1"]
PABLO CASALS | BACH | SOLO CELLO SUITE NO. 1, BWV 1007 | 1954
[video_lightbox_youtube video_id="sWuo1mweGkg" width="590" height="385" auto_thumb="1"]
PABLO CASALS | HAYDN | CELLO CONCERTO IN D MAJOR | 1ST MVT | MASTERCLASS | 1960
[video_lightbox_youtube video_id="AgjmI0YlrUo" width="590" height="385" auto_thumb="1"]
PABLO CASALS | DVORAK | CELLO CONCERTO | 2ND MVT | CZECH PHILHARMONIC ORCHESTRA | 1937