Spanish Local Government Revokes Plácido Domingo Engagement
The famed opera singer will no longer perform with the Orquesta de Extremadura in September, as dozens of women came forward in recent years accusing Domingo of sexual harassment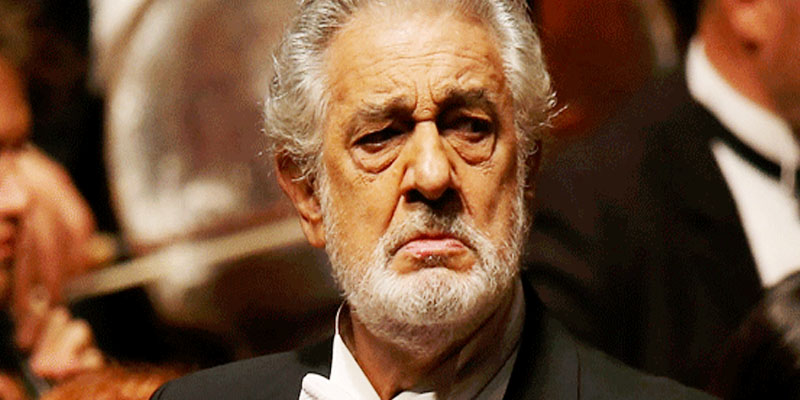 The Extremadura Orchestra Orchestra will no longer be performing with Spanish opera singer Plácido Domingo — one of the most well-known tenors and baritone voices in the world — at this September's publicly-funded Stone and Music Festival in Merida, Spain.
The Junta de Extremadura, the community's local governing body, announced the rejection of Domingo's upcoming performance in a note on July 17. Instead, the Orquesta Filharmónica de España, an ad-hoc ensemble, will accompany Domingo in the performance. The September concert will mark Domingo's first appearance in Merida since 1991.
Irene de Miguel, a member of the Junta de Extremadura, commented publicly that it was "embarrassing and regrettable that a publicly-financed festival decided to close its program with a person denounced by numerous women as a sexual harasser," as translated from Spanish.
The allegations surfaced in recent years and resulted in independent investigations in 2019 and 2020 — one by the American Guild of Musical Artists (AGMA) and another by the Los Angeles Opera, of which Domingo served as general director until he resigned in 2019. Both investigations found credible dozens of accusations of sexual harassment against Domingo since the 1980s. The LA Opera investigation found that Domingo did not engage in retaliatory practices at any point. He has not been involved in any legal proceedings, civil or criminal.
A spokesperson for Domingo described the AGMA report's results as "false conclusions" and referred The Violin Channel to a statement Domingo made in February 2020, where he denied all accusations of sexual harassment against him.
"My apology was sincere and heartfelt, to any colleague who I have made to feel uncomfortable, or hurt in any manner, by anything I have said or done," Domingo's statement reads. "As I have said it repeatedly, it was never my intention to hurt or offend anyone. But I know what I have not done and I'll deny it again. I have never behaved aggressively toward anyone, and I have never done anything to obstruct or hurt anyone's career in any way... I am grateful to all the friends and colleagues that, up until now, have believed in me and supported me through these difficult moments."
He told France 24 last month that "we cannot rewrite our past. We should understand it in context and criticize it, severely if necessary, but it makes no sense to destroy it."
Domingo, who is now 80 years old, has given over 4,000 performances during his career. Alongside Luciano Pavarotti and Jose Carreras, Domingo is often known as one of the "Three Tenors."
Domingo has upcoming engagements in Spain, Austria, and Italy — including a performance of "La Traviata" at the Teatro del Maggio Musicale Fiorentino.