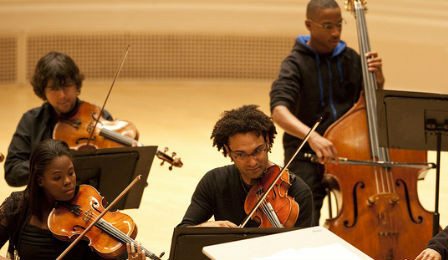 The Sphinx Organization, a US non-profit organization dedicated to the development of young American Black and Latin classical musicians, has today announced the 16 recipients of the 2019 MPower Artist Career Grants.
The year's recipients are:
Paul Aguilar - $10,000 - to travel with the Callisto Quartet and to study with Gunter Pichler at the Escuela Superior de Musica Reina Sofia School.
Sophia Amalia Ayer - $4,600 - to be used towards college prescreening recordings and audition costs.
Govanny Brown - $5,000 - to receive weekly music lessons with violist Michael Klotz.
Douglas Cardwell - $1,000 - to purchase seamless cartwheel mallets and timpani tilt inventions
Armando Castellano - $6,000 - to support Quinteto Latino's Seminario - a program to train musicians of color in chamber music performance
Angelica Durrell - $8,000 - to support the INTEMPO's after-school guitar and choral music program in public schools
Vincent Garcia-Hettinger - $7,200 - to receive lessons and audition coaching with Kenneth Freudigman
Bethlehem Hadgu - $3,300 - to attend the Perlman Music Program Chamber Music Workshop, the Encore String Academy and the Bowdoin International Music Festival
Paul Laraia - $7,400 - to purchase professional grade recording equipment
Jessie Montgomery - $5,000 - to be used towards a Vinyl recording project with bassist/songwriter Eleonore Oppenheim
Gabriela Salvador-Riera - $4,800 - to attend the 2019-20 MSD Honors Program
Damien L. Sneed - $8,500 - to aid with the creation of the Damien Sneed Foundation Performing Arts Institute and educate and empower young people in various disciplines of the performing arts
Nicolette Sullivan-Cozza - $3,000 - to receive weekly lessons with Kerri Ryan in preparation for college auditions
Caen Thomason-Redus - $15,000 - to create Throughlines, a community-connected chamber music series in and around Detroit
Sophia Ines Valenti - $3,200 - to attend the Young Chamber Musicians music program and to assist with extra lessons towards audition/competition preparation
Lecolion Washington - $8,000 - to support a leadership training program at the Community Music Center of Boston, including workshops for aspiring musicians & arts entrepreneurs of color