VC INTERVIEW | VC 'Young Artist' Stephen Waarts – Young Concert Artists & Menuhin Competition 1st Prizes
The Violin Channel recently caught up with 17 year old American-Dutch VC 'Young Artist' Stephen Waarts, in Philadelphia - where he studies at the Curtis Institute of Music, with respected pedagogue Mr Aaron Rosand.
Stephen is coming off the back of a phenomenal purple-patch in his blossoming international career, in recent months having received 2nd prize at the Montreal International Violin Competition, having been signed to coveted artist management with the Young Concert Artists, in New York - and having claimed 1st prize in the Senior Division of the 2014 Menuhin Competition.
We grabbed the prodigious teen as he was busily preparing for upcoming recital debuts at the Verbier Festival, Merkin Concert Hall, in New York and the Kennedy Centre, in Washington DC.

STEPHEN WAARTS RECENT DEBUT WITH CONDUCTOR GIANCARLO GUERRERO AND THE CLEVELAND ORCHESTRA - AT THE 2014 MENUHIN COMPETITION GALA CONCERT, IN AUSTIN, USA
Hi Stephen Waarts. Thank you so much for joining us here on the channel - we are all huge fans of your work.
Firstly, how are you enjoying your time here at the Curtis Institute?
"No problem. Thank you. I'm a huge fan of the channel!

I am currently finishing my third year here at Curtis. I moved here to Philadelphia when I was 15 and my experience so far has been nothing short of extraordinary. Mr Rosand is one of the most interesting and inspiring teachers I could hope for, he has taught me so much about style, timing and bowing technique and, as clichéd as it may sound, he has been extremely encouraging in helping me to find my voice - and shaping my approach to the master works."
He is certainly a great man. Tell us about your family. Are you from a long line of musicians?
"I was born in the United States and have lived here my entire life, but my parents are both Dutch – and I have duel nationality. Neither my mother or father are musicians, both are scientists - but they have a great appreciation for classical music and played a little in their childhood. I have a twin brother and a younger sister who also learnt the violin – but both stopped playing before 10.

So, I guess you could say, 'I'm the musician in the family!'"
Can you tell our VC members about an average day in the life of Stephen Waarts?
"Easy. During the school year … I get up, eat breakfast, practice, go to class, attend orchestra and chamber music rehearsals, spend time hanging out with friends, go to sleep – and then repeat. Not unlike most conservatory students, wouldn't you say?" [laughs]
Do you listen to classical music in your free time? If we grabbed your iPhone what would we be likely to find?
"Yes. I do listen to some classical music in my down time – but I often find it's not necessarily violin repertoire. Recently I am completely obsessed with Bartok's ballet 'The Miraculous Mandarin".
We often forget you are only 17, with the crazy number of accolades you have achieved, but how old were you when you first began this journey?
"I first starting taking violin lessons when I was 5 and for the first few years I studied the Suzuki Method".
You were recently awarded 1st prize at the Young Concert Artists International Auditions, in New York – which has now granted you international management representation and launched you into a professional concert career – the dream for most. How are you feeling?
"I am enthusiastic about it and the staff at YCA are so great to work with! I have some exciting engagements coming up – including debuts in Washington and New York on December 9th and 15th. Also, a recital next year at the Louvre in Paris.

Hopefully as many people as possible from the channel can come along."
We'll be there. And congratulations on your recent 1st prize in the Senior Division of the Menuhin Competition. The over-all standard at the competition this year we thought was nothing short of phenomenal. How did you enjoy the experience?
"I had a great time at the Menuhin Competition. I really appreciated all the interaction and access we were granted to the jury for feedback – as this doesn't happen at many competitions.

Competitions are always somewhat nerve wracking for everybody involved but I just try not to look at it as pitting myself against colleagues and friends but just as another opportunity to perform and hopefully improve."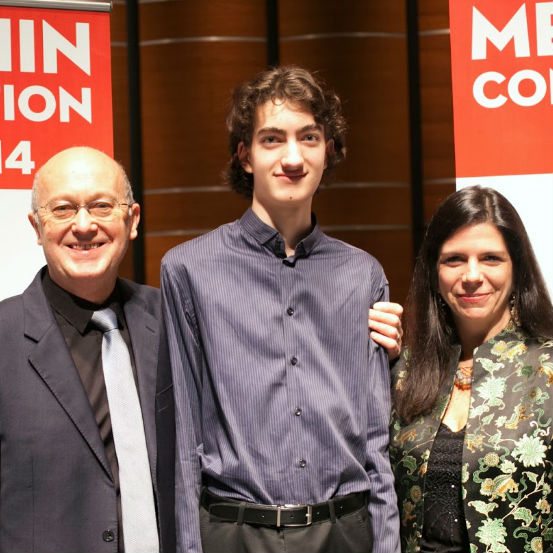 STEPHEN WAARTS WITH 2014 MENUHIN COMPETITION ARTISTIC DIRECTOR GORDON BACK AND JURY CHAIR PAMELA FRANK
Do you enjoy performing? - You seem, to us, very much at home on the stage. Are nerves ever a factor?
"I do - I genuinely enjoy performing. Of course nerves are a factor for all performers in any field, but if I have practiced well, then I just try to relax and enjoy the music - and the moment."
Preparation is definitely the key, no doubt about it. What would you say are your goals for the next year? And even the next 5 or 10?
"This is a hard question to answer as I find I don't usually set goals any further out than a few months – I think it's hard to keep on track.

At the moment my 100% focus is on the present and making as much progress as I can each day. I'm not driven by 'building a career' at this stage, I'm 17, I'm still a student and my priority is absorbing and learning as much as I can from those around me."
Are there any violinists, either living or historical that you are drawn to more than others?
"I tend to like different violinists for different styles and different pieces. I don't 'play favourites' … but I would say Heifetz, Oistrakh, Grumiaux and Perlman have been great influences for me."
Describe your ultimate dream concert or recording project. Feel free to throw in historical musicians.
"This is really hard. But let's go with … playing the Brahms and Berg Violin Concertos, with the Berlin Philharmonic - conducted by Sir Simon Rattle.

And, playing Chausson's Concert for Violin, Piano and String Quartet - with the Guarneri Quartet and Vladimir Horowitz!'

Yes! How do we make this happen - well minus Horowitz?" [laughs]
Who knows. One day! You've thrown it out there now - stand by the phone! A quick YouTube search reveals, at 17, you already have an incredibly impressive repertoire list. Are there any works you haven't prepared as yet, but are super keen to sink your teeth into?
"I really want to learn Respighi's Violin Sonata in B Minor soon. It's beautiful and it's one of my teacher's favourite sonatas, but I haven't had the opportunity to study it just yet.

Actually, I am always looking for great not-so-well-known pieces to play, if any VC members have suggestions. Could people perhaps let me know in the comments below?"
Let's see what suggestions you get - this could be interesting! Your tone is exquisite, Stephen. Tell us about the beautiful Jean-Baptiste Vuillaume instrument you play on?
"Thanks so much! It's from 1868, I believe. I have been so lucky to have played on this instrument since I was 12 years old. I've had the time to see the violin develop as I've improved and I have got to know it better."
Well, we'd say you are also so deserving. And finally before we hand the questions over to the channel, where do you see 30-year-old Stephen Waarts?
"Hopefully in perfect health and without any injuries. Music-wise, I would love to pursue both solo and chamber music performance."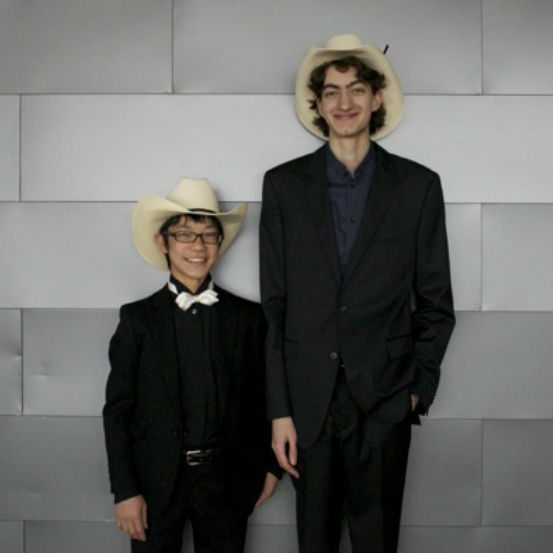 THE WINNERS ARE GRINNERS - STEPHEN WAARTS WITH 14 YEAR OLD JUNIOR MENUHIN COMPETITION 1ST PRIZE WINNER, RENNOSUKE FUKUDA, FROM JAPAN
Thanks Stephen for your time. We are sure you will have a long and prosperous career in front of you.
Here are a few questions from your fans on the channel:
Tarquin Caterbury, from London would like to know about your practice schedule and how many hours you practice each day?
"Hi Tarquin. Being a conservatory student, it really depends on my daily schedule and commitments. But I try my best, if possible, to practice between three and four hours per day."
Tim Marchmont, from Australia would like to know if you have any other musical pursuits such as playing the piano, or conducting or composing?
"Hi Tim. I have played the piano also since I was eight. Whilst I'm no Arthur Rubinstein, I like to keep it up as I feel it compliments the violin well. I'm not so experienced with conducting or composing, although I have studied a little of both - but who knows what the future holds."
Itamar Rashkovsky, from London would like to know if you felt it was risky to re-enter the 2014 Menuhin Competition - given you had previously received a 2nd prize in the Junior Competition in 2010?
"Hi Itamar. I didn't really take it into consideration when I applied as I think the two categories are distinct and there isn't any competition between them."
Joanne Chun would like to know about your life away from the violin.
"Hi Joanne. Despite the rather abnormal life of a musician, I aim to be as normal as possible. My life outside of music is pretty much the same as anyone elses', I guess. I'm lucky to have great friends at Curtis and all over the world."
Max Waxman would like to know about your sleep patterns, Stephen. He feels people often underestimate the effects of good sleep on performance.
"Max, I completely agree! I always try to get at least eight hours sleep or I find both my performances and my health start to suffer."
STEPHEN WAARTS | PROKOFIEV | VIOLIN CONCERTO NO. 2 | 1ST MVT | 2014 MENUHIN COMPETITION