The Azrieli Foundation Announces 2022 Azrieli Music Prize Laureates
Composers Iman Habibi, Aharon Harlap, Rita Ueda received prizes at this year's competition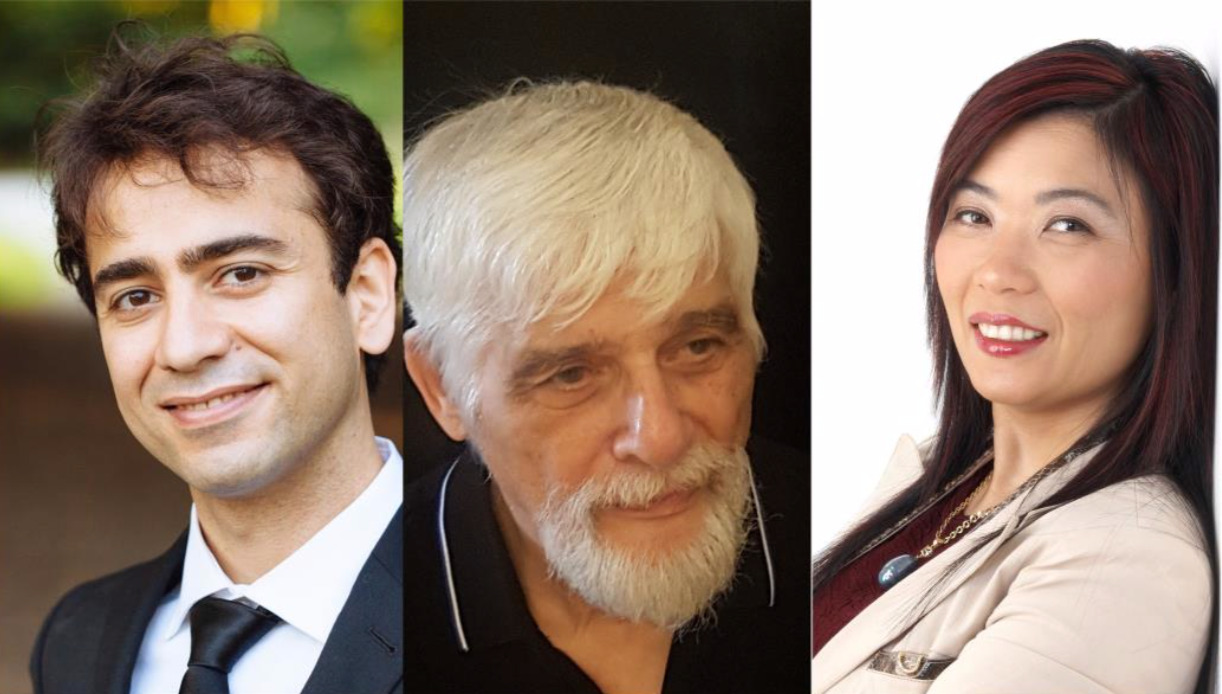 (Left to Right): Iman Habibi, Aharon Harlap and Rita Ueda
Established in 2014, the competition is comprised of three categories: The Azrieli Prize for Jewish Music, The Azrieli Commission for Jewish Music, and The Azrieli Commission for Canadian Music.
The Azrieli Commission for Jewish Music will go to Iman Habibi, the Azrieli Prize for Jewish Music to Aharon Harlap, and the second edition of the Azrieli Commission for Canadian Music to Rita Ueda.
The 2022 competition focused on music for a symphony orchestra with up to two soloists.
Iranian-Canadian composer and pianist, as well as a founding member of the piano duo Piano Pinnacle, Iman has had works commissioned for the Boston Symphony Orchestra, The Philadelphia Orchestra, and Orchestra of St. Luke's. He has collaborated with the Vancouver and Winnipeg Symphony Orchestras, as well as the JACK, Chiara, Del Sol, and Calidore String Quartets. He is a former winner at the SOCAN Foundation Awards, the International Composers' Award at the Esoterics 'Polyphonos' Choral Composition Competition, the Vancouver Mayor's Arts Award for Emerging Artist in Music, and the Brehm Prize in Choral Composition, as well as numerous grants from the Canada Council for the Arts, British Columbia, and Ontario Arts Councils.
The jury described Iman as, "a truly authentic composer. His music is unique, original and fascinating. His proposal for a new song cycle exploring Judeo-Persian poetry offers an utterly unique contribution to the repertoire."
Aharon is one of Israel's most prominent and awarded composers and conductors. An Associate Professor at the Jerusalem Academy of Music and Dance in orchestral and choral conducting and music composition, he is the recipient of the Life Achievement Award for Jewish Art compositions.
Aharon's piece was described by the jury as, "a beautiful, sophisticated, moving and sincere piece of music, written by a fantastic musician. It is a major work that reflects well on the state of Jewish Music."
Rita Ueda is a Canadian composer of orchestral, operatic, and choral works that reflect today's ever-shifting interactions between cultures in flux. Recent premieres include collaborations with the Vienna Radio Symphony Orchestra, Budapest Symphony Orchestra, Vienna Chamber Orchestra, Prague Modern, Locrian Chamber Players, the Amadeus Choir, and the SYC Ensemble Singers. She is a former top prize winner of the 2014 Krzysztof Penderecki International Composers' Competition, 2010 International Mahler Competition, 2011 Estoterics 'Polyphonos' Choral Composition Competition, and the 2013 Val Tidone Composition Competition. She is currently Composer-in-Residence of Sanremo Symphony Orchestra.
A comment made by the jury stated that "Rita Ueda brings rigour and care to her music. Her proposal is well-researched and interesting in the ways that it confronts tensions in and between cultures by viewing birdsong through an intercultural lens. It is a well-considered, generous and integrated idea for expressing the diversity of Canadian society, where all individuals can be valued for what they bring to the whole."