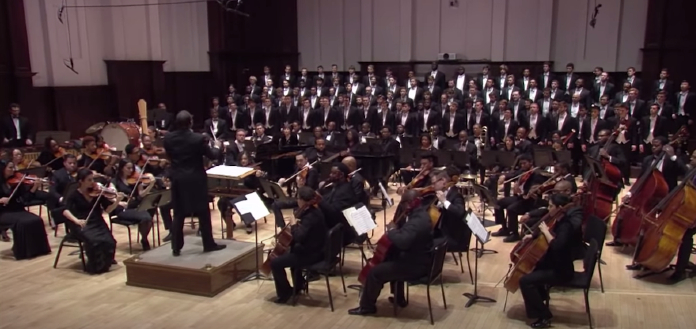 2017 archival footage of the world premiere performance of Atlanta-based composer Joel Thompson's 'Seven Last Words of the Unarmed" – with conductor Eugene Rogers, the Sphinx Symphony Orchestra and the University of Michigan Men's Glee Club.
The 7 movement work was written in response to the deaths of 7 African American men from the forces of police brutality.
"In composing the piece i used the liturgical format in Haydn's 'Seven Last Words of Christ' in an effort to humanize the men and to reckon with my identify as a black man in this country in relation to the specific scourge of police brutality," Joel has said.
The works' movement titles include: "Why do you have your guns out?", "I don't have a gun. Stop shooting", "You shot me! You shot me!" and "I can't breathe."
https://youtu.be/zdNXoqNuLRQ
JOEL THOMPSON | "THE SEVEN LAST WORDS OF THE UNARMED" | EUGENE ROGERS, SPHINX SYMPHONY ORCHESTRA & UNIVERSITY OF MICHIGAN'S GLEE CLUB | 2017 WORLD PREMIERE