VC DESERT ISLAND DOWNLOADS | Vadim Gluzman - '5 Recordings I Can't Live Without'
VC recently caught up with Ukrainian-born Israeli violin virtuoso Vadim Gluzman - for a fun game of VC Desert Island Downloads
The Violin Channel recently caught up with Ukrainian-born Israeli violin virtuoso Vadim Gluzman - for a fun game of VC Desert Island Downloads. 
We sat him down to pick his brain on which 5 CD recordings he would take with him to a deserted island - and how the tracks have helped shape him as a musician.
 
1. Glenn Gould's Complete Bach Goldberg Variations - from 1955 and 1981 Recordings 
"It's difficult to talk about an artist whose impact on our life transcends time.
Both versions of Goldberg Variations (while being very different in many ways) are all-encompassing, cosmic if you will, yet deeply human.
The most objective interpretations, yet extraordinary personal."
2. David Oistrakh's Tchaikovsky Violin Concerto - with Eugene Ormandy and Philadelphia Orchestra
"Nothing has been invented more beautiful than the sound of Oistrakh's violin.
He is the one violinist whose playing I adored when I was a young child, than a student, and if anything, I love his playing today even more.
Each and every note sings to the core of our soul in the ultimate recording of THE Russian violin concerto!"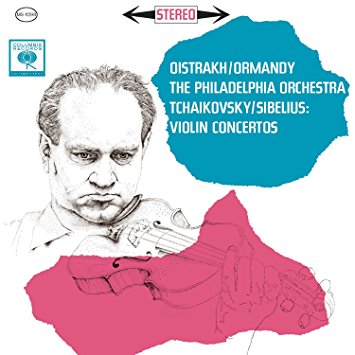 3. Alban Berg Quartet & Heinrich Schiff - performing Schubert's String Quintet
"It is difficult to imagine this piece played better...
I was fortunate to be introduced to this work through this recording.
Will never forget that first impression, I was so overwhelmed by emotion, by its eternal beauty and of course by the most stunning rendition...
The humility, purity and genuine feeling of this recording until now, almost 30 years later, still stands for me as one of the greatest examples of true music making."
 4. Barbara Hannigan's Abrahamsen "Let Me Tell You" - with Andris Nelsons and Bavarian Radio Orchestra 
"This piece for me was one the biggest musical impressions/discoveries of the last few years.
Song cycle, a setting of a novel by Paul Griffiths, is absolutely spellbinding.
Music is as poetic as is the subject, and Ms. Hannigan's voice is just magical."
5. Carlos Kleiber's Beethoven Symphonies Nos. 5 & 7 with Vienna Philharmonic
"Needless to say - Kleiber and Vienna Philharmonic was a extraordinary collaboration.
One of the greatest conductors of all time, the most enigmatic figure, Kleiber projects inhuman elegance, depth, and stunning sense of proportion. 
Quite simply mesmerizing..."