Violinist Philippe Quint Reflects on His Lesson with Isaac Stern
Violinist Philippe Quint shares his personal experience of performing for violinist Isaac Stern and the impact the event had on him
Playing for Isaac Stern is a kind of moment that one never forgets. It's that kind of moment where one remembers every single word said, every facial expression, and every emotion conveyed. The Violin Channel recently caught up with Russian-born American violinist Philippe Quint to chat about how his moments with Isaac Stern have influenced and still continue to shape him as a person and musician today.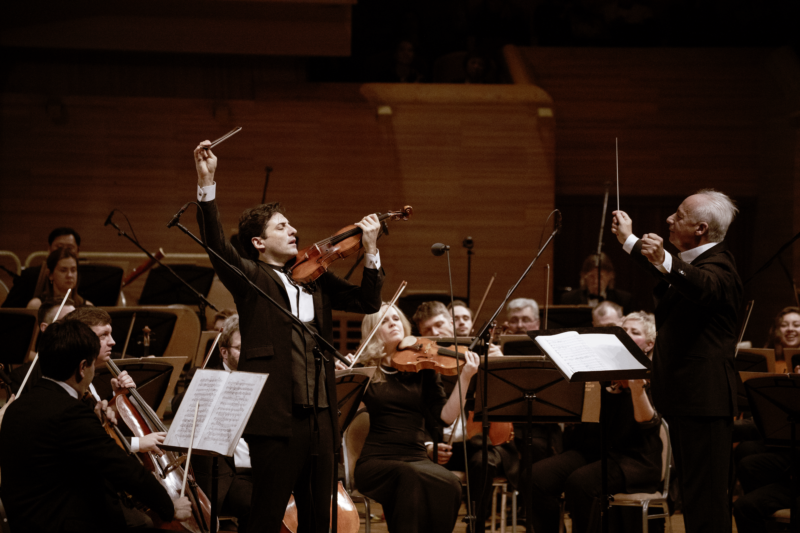 Violinist Philippe Quint on His Time with Isaac Stern
My lesson with Isaac Stern.
Isaac Stern would have been 100 years old this week, July 21, 2020.
Yesterday, I had the honor and pleasure of being interviewed on Classical KCUR together with one of Isaac's children - Michael Stern, a wonderful conductor, musician, and a friend with whom I've shared many great times on and off stage.
The conversation evoked memories of my lesson with Isaac Stern on November 1st, 1998 which I wanted to preserve in my memory for today's special occasion.
Growing up in Soviet Union, I recall having a small collection of records with two recordings of Isaac Stern: Bruch's G minor Violin Concerto paired with Lalo's Symphonie Espagnole and a collection of show pieces. These records, along with records of Jascha Heifetz, Henryk Szeryng, David Oistrakh and Leonid Kogan were my go-to recordings for inspiration.
After winning the Juilliard Competition in 1998 and performing with Maestro Masur at Lincoln Center, Ms. DeLay called me into her studio and said, "Sugarplum - you did well with Korngold last week, I think you are ready to play for Isaac."
As you can imagine, my heart stopped when I heard that I was going to play for a legend.
I had met Stern several times before, but mostly in passing and I recall feeling paralyzed in front of him. He had rather an intimidating presence.
Mrs. DeLay gave me some pointers before the lesson, indicating that Mr. Stern tends to be very critical of young artists and that over the years, she's brought several students to him, but there were only a few that he liked. In several instances, he even suggested that some students should switch to viola.
On Nov. 1, 1998, a cold New York morning, I went to play for Isaac Stern in his apartment located on Central Park West.
I was met by his lovely personal assistant Jacques who showed me to the warm up room. I am pretty sure that this was a large closet as it had a very big display of concert shoes and wardrobes. It still felt like a room, as my New York apartment studio was much smaller.
Behind the closed doors, I could already hear Mrs. DeLay's friendly banter with Stern and some laughter.
Soon after, I was called into the room.
Mrs. DeLay was sitting comfortably in a chair and quickly whispered to me, "be ready for a storm."
Stern walked into the room a few minutes later, with glasses on his forehead.
He looked at me intensely and asked where I was from.
"Leningrad," I replied. Oh "Govorish po ruski? (oh, you speak Russian?)" he asked in a lightly accented Russian.
From then on, the discussion went mostly in Russian and glancing at Mrs. DeLay, I had a feeling she felt a bit left out of the conversation but kept pleasantly smiling as if she was enjoying the sound of a foreign language.
Isaac asked what I had prepared. It was the first movement of Korngold's Violin Concerto which Mrs. DeLay felt was a safe bet for milder criticism, and the other piece was Beethoven's Sonata no. 8.
"Movie music" exclaimed Isaac, referring to Korngold. To me that sounded like this was hardly a good choice of a piece that Stern wanted to hear.
"Ok," he said. "Let's hear it."
After a few pages, around the development, he stopped me and said,
"You are a good fiddler, you play very well, but why did you slide up and down in this passage, the same way?"
I wasn't sure if this was more of a rhetorical question and if I should keep my mouth shut and wait for his answer. After a few seconds of contemplation, I mumbled something to the effect of, "I feel that these particular harmonies needed more expressivity and while I did not intend to have similar glissando's in both instances, I was not aware that it came off this way."
He then spent a few minutes discussing choices in music, interpretation and approach to a work that is already heavily Romantic in its nature.
He asked if there was any great reason why I felt that it needed to be sweetened more than it already is. After questioning my ideas on Korngold, I could tell he wanted to move on to Beethoven.
Here again, I was only able to play a few phrases before he stopped me.
"Go to the beginning," he said.
"Play the beginning slowly now."
"Now play those groups of sextuplets with separate bow."
"You see," he said, switching back to Russian, "one must understand that there is meaning behind every note. You need to discover that meaning. When you do, I want to hear you again."
The lesson was winding down and I was putting the violin into my case when Isaac suddenly said, "By the way, do you play the viola?"
My heart sank. I looked at Mrs. Delay with panic in my eyes and hope that she can bail me out from what could be my very last encounter with violin.
Her poker face expression read, "I told you so," which was immediately followed by a mysterious Mona Lisa smile, confirming that I'll have to handle this myself.
"No, I don't" I replied.
"You should… You are tall and you have long arms, you should definitely play the viola" … he paused… "in addition to violin."
"All great fiddlers I know, played the viola" he continued.
The lesson ended. I was exhausted and somewhat baffled.
When I arrived home, there was already a message from Mrs. DeLay waiting for me. I immediately called her.
"Sugar plum" she said, "Did you understand what Mr. Stern wanted to convey?"
I said, "Frankly, Mrs. DeLay, I didn't really understand everything. What does it even mean, "meaning behind every note." It's such a vague statement!"
"Isaac believes that young musician's don't spend enough time thinking in depth about the music" Mrs. DeLay calmly explained.
"He has said it on many occasions and to many of my students.
I think the lesson was very positive and most importantly he said that he wanted to hear you again so we'll try to schedule something soon."
It has now been slightly over 22 years since that catalyst encounter in my musical life.
Of course, at the time, I wanted Stern to just say how much he loved my playing, but what I walked away with was much more precious.
The non-achievable but a constant and recurring quest for finding a meaning behind every note.
Happy Centennial Isaac Stern
- Philippe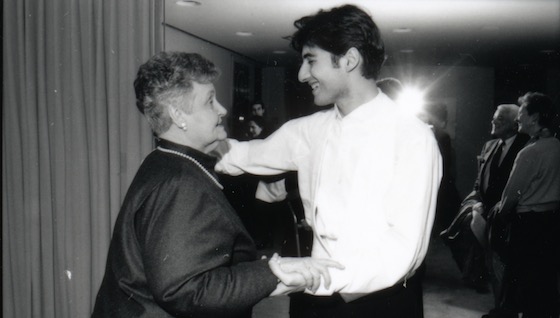 PHOTO CREDIT: JUILLIARD SCHOOL ARCHIVES - PHILIPPE QUINT WITH MS DOROTHY DELAY 1998
Do you have an idea for a blog or news tip? Simply email: [email protected]
Multi Grammy Award nominee violinist Philippe Quint is constantly in demand and regularly appears with major orchestras such as London Philharmonic and Chicago Symphony at venues ranging from the Gewandhaus in Leipzig to Carnegie Hall in New York.
Mr. Quint is a frequent guest at the most prestigious festivals including Verbier, Aspen, Colmar, Hollywood Bowl and Dresden Festspiele. His live performances and interviews have been broadcast on CBS, CNN, ABC, BBC, NBC, Reuters, Bloomberg TV. The last 2 seasons saw Mr. Quint produce two critically acclaimed multimedia shows " Charlie Chaplin's Smile" and Astor Piazzolla's "Between Angels and Demons". His award winning discography includes 17 critically acclaimed releases on several major labels including Warner Classics, Naxos and Avanti Classics.