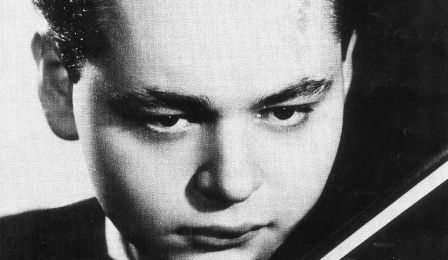 This week The Violin Channel explores the recordings of the late, great American violin virtuoso Michael Rabin.
[video_lightbox_youtube video_id="5pKRNjGZJr0" width="590" height="385" auto_thumb="1"]
MICHAEL RABIN | KREISLER | TAMBOURIN CHINOIS | BELL TELEPHONE HOUR | AGE 15
A celebrated child prodigy, he is remembered as one of the eminent violinists of the 20th Century - praised by legendary pedagogue Ivan Galamian, as having 'no weaknesses, never'.
He tragically developed a neurological condition in his late 20s, and died in 1972, aged just 35 - from a head injury sustained by a fall.
Thankfully, Michael Rabin will forever be immortalised by his brilliant and treasured recording legacy.
 [video_lightbox_youtube video_id="umA7XyG2L_c" width="590" height="385" auto_thumb="1"]
MICHAEL RABIN | TCHAIKOVSKY VIOLIN CONCERTO | 3RD MVT | VOORHEES | BELL TELEPHONE HOUR ORCHESTRA | 1960
[video_lightbox_youtube video_id="tkFWLO-1i2s" width="590" height="385" auto_thumb="1"]
MICHAEL RABIN & DAVID GARVEY | SCHUBERT | SONATA (DUO) IN A MAJOR | 1ST MVT | 1954
[video_lightbox_youtube video_id="7VIejSlKSfw" width="590" height="385" auto_thumb="1"]
MICHAEL RAIB & LEON ROMMERS | CHOPIN | NOCTURNE NO. 8 (ARR. MILSTEIN) | 1959
[video_lightbox_youtube video_id="bhyzk6Ty-Ms" width="590" height="385" auto_thumb="1"]
MICHAEL RABIN | SARASATE | ZIGEUNERWEISEN | FELIX SLATKIN | HOLLYWOOD BOW ORCHESTRA | 1959
[video_lightbox_youtube video_id="XvidOho63N8" width="590" height="385" auto_thumb="1"]
MICHAEL RABIN | PAGANINI VIOLIN CONCERTO NO. 1 | 1ST MVT | GOOSSENS | PHILHARMONIA | 1960
[video_lightbox_youtube video_id="FmzM6COfn8E" width="590" height="385" auto_thumb="1"]
MICHAEL RABIN | WIENIAWSKI VIOLIN CONCERTO NO. 1 | 1ST MVT | BOULT | LONDON PHILHARMONIA
[video_lightbox_youtube video_id="7VIejSlKSfw" width="590" height="385" auto_thumb="1"]
MICHAEL RABIN & LEON POMMERS | CHOPIN | NOCTURNE NO. 8
[video_lightbox_youtube video_id="Ks_mJSbWTvI" width="590" height="385" auto_thumb="1"]
MICHAEL RABIN | TCHAIKOVSKY VIOLIN CONCERTO | 1ST MVT | GALLIERA | PHILHARMONIA
[video_lightbox_youtube video_id="SS_PFE3_pAM" width="590" height="385" auto_thumb="1"]
MICHAEL RABIN | WIENIAWSKI VIOLIN CONCERTO NO. 2 | GOOSSENS | PHILHARMONIA ORCHESTRA
[video_lightbox_youtube video_id="vrulU9oC5Ws" width="590" height="385" auto_thumb="1"]
MICHAEL RABIN | PAGANINI | MOTO PERPETUO