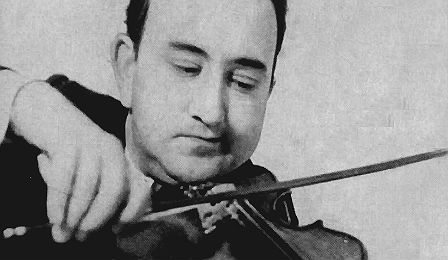 The week VC explores the recordings of legendary Russian violin virtuoso Victor Pikayzen.
A protege of David Oistrakh, he is a former prize winner at the Kubelik, Queen Elisabeth, Thibaud and Tchaikovsky International Violin Competitions - and a former Grand Prize winner at the 1965 Paganini International Violin Competition.
Now 80 years old, he is recognised internationally as one of the outstanding violinists of the 20th Century - praised for his breathtaking brilliance and innate nobility.
[video_lightbox_youtube video_id="14p2uz8I8Lc" width="590" height="385" auto_thumb="1" ]Victor Pikayzen & Inna Kallegorskaya | Sarasate | Zigeunerweisen | 1953
He served a long term distinguished Professorship at the Moscow Conservatory – his famed students including VC 'Young Artists' Yury Revich and Igor Pikayzen.
[video_lightbox_youtube video_id="ASnjQpoGwrY" width="590" height="385" auto_thumb="1" ]Victor Pikayzen | Ysaye | Solo Sonata No. 6 in E Major | Live | 1988
[video_lightbox_youtube video_id="IzcJPNHQMPo" width="590" height="385" auto_thumb="1" ]Victor Pikayzen | Beethoven | Violin Concerto | 1st Mvt | Igor Oistrakh | USSR RTV Symphony Orchestra
[video_lightbox_youtube video_id="gN1HDewo4IM" width="590" height="385" auto_thumb="1" ]Victor Pikayzen | Beethoven | Violin Concerto |2nd Mvt | Igor Oistrakh | USSR RTV Symphony Orchestra
[video_lightbox_youtube video_id="emlPNMe11qk" width="590" height="385" auto_thumb="1" ]Victor Pikayzen | Paganini | Solo Caprice No. 2 | Live | 1986
[video_lightbox_youtube video_id="ZB6oTyrgfbQ" width="590" height="385" auto_thumb="1" ]Victor Pikayzen & Tatiana Pikayzen | Schubert | Ave Maria (Arr. August Wilhelmj) | 2007
[video_lightbox_youtube video_id="fhN84Ht0c4Q" width="590" height="385" auto_thumb="1" ]Victor Pikayzen | Dvorak | Violin Concerto | 1st Mvt | Oistrakh | Moscow Philharmonic
[video_lightbox_youtube video_id="14p2uz8I8Lc" width="590" height="385" auto_thumb="1" ]Victor Pikayzen & Inna Kallegorskaya | Sarasate | Zigeunerweisen | 1953
[video_lightbox_youtube video_id="UzfAcXH-6vs" width="590" height="385" auto_thumb="1" ]Victor Pikayzen | Wieniawski | Violin Concerto No. 1 in F# Minor | 1st Mvt | Rozhdestvensky | Moscow Radio Symphony