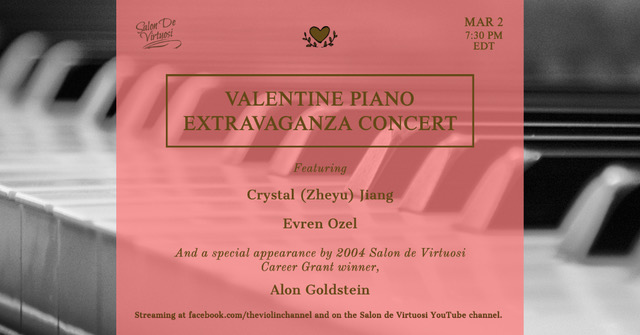 We're coming to you from New York City this evening for a special "Valentine Piano Extravaganza" concert presented by Charlotte White's Salon de Virtuosi.
The concert features pianists Crystal (Zheyu) Jiang and Evren Ozel as well as a special guest appearance by 2004 Salon De Virtuosi Career Grant winner, Alon Goldstein.
Salon de Virtuosi has been supporting outstanding young musicians at the early stages of their careers since 1989, with generous career grants and performance opportunities.
Among the artists presented in its earlier years include Gil Shaham, Lang Lang, Philippe Quint, Pablo Sainz Villegas, Conrad Tao — and VC Artists Josef Spacek, Paul Huang, Zlatomir Fung, Nathan Meltzer, Yesong Sophie Lee, and Hina and Fiona Khuong-Huu.
WEDNESDAY MARCH 2ND | 7:30 PM (ET)
SALON DE VIRTUOSI PRESENTS VALENTINE PIANO EXTRAVAGANZA
NEW YORK CITY
Crystal Jiang (Piano)
 Chopin | Selections from Preludes
 Schubert | Wanderer Fantasy in C Major
Evren Ozel (Piano)
Chopin | Mazurkas
Rachmaninoff | Variations on a Theme of Corelli
Crystal Jiang (Piano) | Alon Goldstein (Piano)
Crystal Jiang (Piano) | Evren Ozel (Piano) | Lora Tchekoratova (Piano) | Alon Goldstein (Piano)