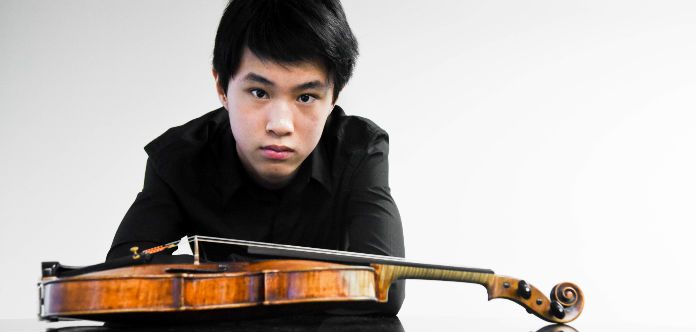 16 year old American violinist Kevin Zhu is quickly building an impressive international reputation as a prodigious young talent of enormous potential.
A student of Itzhak Perlman and Li Lin at the Juilliard School Pre-College Division, Kevin shot to international fame, aged just 11, after claiming 1st Prize in the Junior Division of the 2012 Menuhin Competition – the youngest prize winner in history.
His recent debuts include solo performances with the Vienna Chamber Orchestra, Saratoga Symphony, Symphony Parnassus and the Harpa International Music Academy.
His upcoming engagements include a concerto appearance with the Pittsburgh Symphony Orchestra.
Her currently performs on an Andrea Guarneri violin - on loan from Florian Leonhard Fine Violins.
VC YOUNG ARTIST KEVIN ZHU | PAGANINI | VIOLIN CONCERTO NO. 1 | 2016 HARPA INTERNATIONAL MUSIC ACADEMY
VC YOUNG ARTIST KEVIN ZHU & JOHN ROOT | BRAHMS VIOLIN CONCERTO | 1ST MVT 
VC YOUNG ARTIST KEVIN ZHU & MILES GRABER | WAXMAN | CARMEN FANTASY 
VC YOUNG ARTIST KEVIN ZHU | YSAYE | SOLO SONATA NO. 6
Name: Kevin Zhu
Violin: Andrea Guarneri - on generous loan from Florian Leonhard Fine Violins
Bow: Eugène Sartory
Teachers: Itzhak Perlman & Li Lin