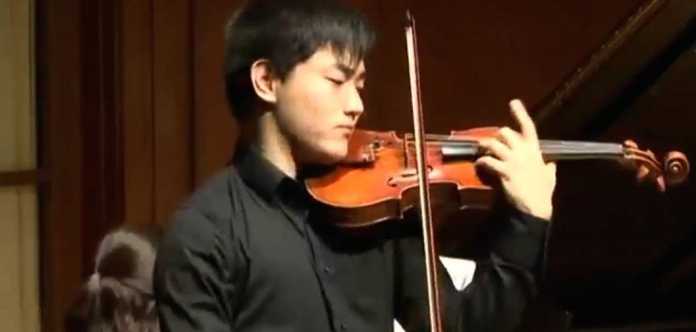 19 year old Chinese violinist, Zeyu Victor Li is quickly building an international reputation as one of the most prodigiously gifted young concert soloists to emerge in recent years - praised for his technical mastery, exuberance and calm confidence.
Born in Huanan City, in China, Victor is a student of respected pedagogue Aaron Rosand at the Curtis Institute of Music - and is a recent major prize winner at the Schadt, Sendai and Montreal International Violin Competitions, and the New York Young Concert Artists International Auditions.
His recent debuts include solo performances with the Philadelphia Orchestra, Hong Kong Philharmonic, Montreal Symphony, Shanghai Philharmonic, Sendai Philharmonic, Brevard Symphony, and USC Symphony Orchestra.
ZEYU VICTOR LI | MENDELSSOHN | VIOLIN CONCERTO | TAN DUN & HONG KONG PHILHARMONIC | 2015
https://www.youtube.com/watch?v=tJXk1l7FVlI&showinfo=0&autohide=1
ZEYU VICTOR LI & RAIJA KERPPO | PROKOFIEV | SONATA FOR VIOLIN & PIANO NO. 2 | 2015 JEAN SIBELIUS INTERNATIONAL VIOLIN COMPETITION | 19 YEARS OLD
https://www.youtube.com/watch?v=sxiS-xgeKxA&showinfo=0&autohide=1
ZEYU VICTOR LI & RAIJA KERPPO | SIBELIUS | HUMORESQUE NOS. 1 & 2 | 2015 JEAN SIBELIUS INTERNATIONAL VIOLIN COMPETITION | 19 YEARS OLD
https://www.youtube.com/watch?v=OYXn7kaEtn0&showinfo=0&autohide=1
ZEYU VICTOR LI | RAVEL | TZIGANE | YEHUDI MENUHIN INTERNATIONAL VIOLIN COMPETITION | 2014 | 17 YEARS OLD
ZEYU VICTOR LI | MILSTEIN | PAGANINIANA | CURTIS INSTITUTE OF MUSIC | 2012 | 16 YEARS OLD
https://www.youtube.com/watch?v=l2So7Vkv8d4&&showinfo=0&autohide=1
ZEYU VICTOR LI & MICAH MCLAURIN | BRAHMS | VIOLIN SONATA NO. 1 IN G MAJOR | 1ST MVT | 2014 | 17 YEARS OLD
https://www.youtube.com/watch?v=f-cNLOLZp9c&showinfo=0&autohide=1
ZEYU VICTOR LI | KREISLER | TAMBOURIN CHINOIS | MENUHIN COMPETITION | 2014 | 17 YEARS OLD 
https://www.youtube.com/watch?v=1DbhLy0-RAU&showinfo=0&autohide=1
ZEYU VICTOR LI | PAGANINI | CAPRICE NO. 1 | YEHUDI MENUHIN INTERNATIONAL VIOLIN COMPETITION | 2014 | 17 YEARS OLD
https://www.youtube.com/watch?v=Usm-27ey2_Q&showinfo=0&autohide=1
ZEYU VICTOR LI | BACH | SOLO SONATA IN A MINOR | ANDANTE & ALLEGRO | MENUHIN COMPETITION | 2014 | 17 YEARS OLD
https://www.youtube.com/watch?v=Km7-VdvJpAk&showinfo=0&autohide=1
ZEYU VICTOR LI | MOZART VIOLIN CONCERTO NO. 5 | 2ND MVT | MENUHIN COMPETITION | 2014 | 17 YEARS OLD
Name: Zeyu Victor li
Violin: 1859 Gaetano Dionelli
Bows: Glass Leipzig
Teacher: Aaron Rosand