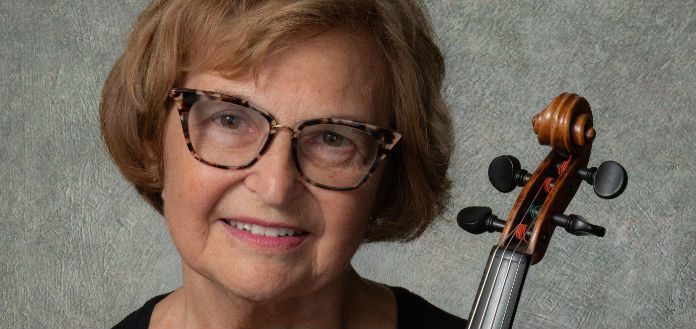 In a VC-exclusive guest blog, respected Chicago-based violin pedagogue Mrs Almita Vamos shares her thoughts on the technical and interpersonal qualities required to become an effective instrumental teacher ...
"To be an effective, professional teacher, you need the same qualities that are required to be a good doctor, a good lawyer, or a good business executive. We have to understand our work thoroughly, be sensitive to the people with whom we are working, and love what we are doing. Perhaps even more importantly, we need to be passionate about doing the best we can and strive to continuously improve and expand our skills. Even after nearly 55 years of teaching, I am still working on this!
Teaching is easier today than ever before because we have so many sources from which we can learn. We have articles, books, conventions, masterclasses, and YouTube at our disposal! How lucky we are that we are not in a vacuum, but instead have the opportunity to learn from teachers of the past and present. We learn from the great masters who are no longer alive but have left a legacy of fine teaching; we learn from colleagues who have individual strengths and styles; and, MOST of all, we learn from our students.
In teaching, we must make sure that the student is comfortable, relaxed, and knowledgeable about the physics of the instrument. The body should not fight with the intricacies of the technique, and the technique must be applied to make the music speak. It is necessary for the student to try to learn the intent of the composer and then to feel free to express it in their own fashion. Music is both art and entertainment (within the bounds of good taste and intelligence, of course). When I am teaching, I am imparting my own ideas to the student—that is my job—but I remind my students that this is just a springboard. We can encourage students to take our advice but also let them use their own imaginations to develop a unique musical personality. As students mature, they can be given more freedom. If a student does not have the technical or musical maturity yet, the teacher must be more specific, hoping that, through osmosis, they will eventually develop their own personality without being indulgent.
The biggest challenge I have is to understand each student's physical body and emotional state, as well as knowing how to adapt technique to fit the individual. I am continuously finding that each student I work with responds to criticism in different ways. A teacher's job is to adapt their teaching style to inspire and instill confidence in every student. We must keep reminding ourselves that we cannot allow our moods or frustrations to interfere with the learning atmosphere. Do I ever make mistakes with this? Of course! But I always try to be more aware of how the student might be feeling. This awareness gives me the impetus to keep improving how I work and connect with students."
A graduate of the Juilliard School, where she studied with Mischa Mischakoff and Louis Persinger, Mrs Almita Vamos currently serves on faculty at the Music Institute of Chicago and the summer program of Northwestern University | She has been honored by the American String Teachers Association 'Distinguished Teacher of the Year' Award - and been presented with a prestigious 'Presidential Award for Excellence in Teaching' a record six times | Mrs Vamos and her husband Roland Vamos' famed students include Rachel Barton Pine, Jennifer Koh - and VC Artists Matthew Lipman, Benjamin Beilman and Ryan Meehan from the Calidore Quartet